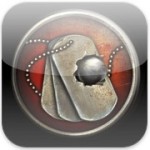 Back in March, experienced iOS pinball developer Gameprom released their newest pinball offering into the App Store called War Pinball [99¢/HD]. Like their previous games, War Pinball contained gorgeous 3D graphics, complex table designs, and a decent physics simulation, at least as far as video pinball games go. The game featured 3 different tables that were each themed after a popular war movie – Navy Seals, Missing in Action, and Platoon.
We really liked War Pinball in our review, and today a new update is available that adds a couple of interesting features to the game. First off, it now has Game Center integration with leaderboards for each table (as well as one for the Platoon mini-game) and more than 50 achievements to earn.
The other big feature in this update is a TV-Out capability for both the iPhone and iPad versions of the game. Retina Display devices will output the game in a scaled back HD resolution when played on a TV, but iPad 2 owners can run the game in full screen HD resolution. The TV-Out feature has been a welcome addition to other games like Real Racing 2 HD [$9.99], Chopper 2 [$2.99], and various other games we tried. It's certainly a cool function to now have in one of my favorite iOS pinball games, and to be honest I wish every game offered this option.
The following trailer was actually recorded straight from a television running War Pinball HD from an iPad 2:
Owners of Gameprom's Pinball HD [99¢/HD], the collection of their 4 previous pinball games contained in one app, can look forward to getting the Game Center and TV-Out treatment in the very near future as well. For fans of pinball games I can easily recommend War Pinball as it's definitely my favorite of the Gameprom titles so far, and now you can earn you Game Center achievements and compete on the leaderboards on the big screen in your living room.