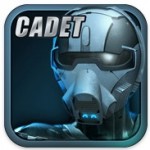 Released in July of last year, Villain's Archetype [99¢] was easily the most robust online first-person shooter available on the App Store at the time. It featured smooth Team Deathmatch multiplayer for up to 10 players over WiFi, 3G, or EDGE connections. We really liked the game in our review, and in the months following release Archetype received several updates adding Capture the Flag and Free For All modes, new maps and game types, and loads of other enhancements. An iPad native version, Archetype HD [$2.99], was released as well.
While other FPS games have since offered similarly impressive online multiplayer functionality, Archetype has remained a popular choice among fraggers on the go. Now you can test drive the game for free with the recently released Archetype Cadet [Free/HD]. Archetype Cadet gives you access to 5-on-5 Team Deathmatch on 2 available maps, Invidia and Pride Rocket Arena. Check out our gameplay video of the release version of Archetype to get an idea of the gameplay:
The full version of Archetype has you creating a persistent profile that is tied to your device. Archetype Cadet simply assigns you a generic gamer tag that is unable to earn experience or rank up in any way, so there's no hassle with trying to sync profiles between the two versions if you decide to upgrade to the full. If you've been wondering what all the fuss is about with Archetype but haven't yet been able to pull the trigger on purchasing the game, then grab Archetype Cadet for a free glimpse of the gameplay.