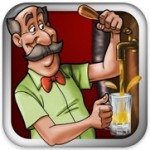 Back in March, Warner Bros. and Square One Studios released an official modern remake of the classic Tapper series for iOS called Tapper World Tour [99¢/HD]. It took the same basic gameplay of the original where you had to man several bars at once, serving approaching patrons before they reach the end of the bar while collecting empty glasses and cash tips. Tapper World Tour added a few extra bells and whistles to this formula, like multiple drink types, specialty drinks that triggered abilities, and funny sideshows that would pause the action briefly and allow you to catch up on your orders.
We really enjoyed this reboot of the Tapper games in our original review, and especially loved the beautiful artwork that was hand-drawn by classic animator Don Bluth. The many different characters and environments oozed all sorts of personality, and allowed you to travel to locations around the world serving drinks. Today a new update is available for Tapper World Tour that expands these locations into Europe.
There are 40 new levels across 4 new European cities – Paris, Dublin, Munich, and Corsica – each with their own new type of sideshow, 20 new patron types, and 12 new drinks. There is also a new power-up, the "Lane Freeze", which will stop customers from approaching a bar counter of your choice for a short period of time. I really enjoyed Tapper World Tour before, and I'm having a great time playing through these new levels too. If you haven't yet checked out Tapper World Tour, the game is on sale for a limited time to celebrate the new update.