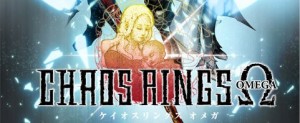 It's been a busy couple of days with news coming from the Square Enix camp, and following the announcement yesterday that two new Chaos Rings titles were in the works the Japanese developer has now revealed the first trailer for Chaos Rings Omega. Andriasang.com has additional details for this prequel to the original Chaos Rings [$12.99/HD] straight from the Famitsu website:
According to the site, Omega is set 10,000 years before the events of the first Chaos Rings. You'll follow a story centered on the characters of Viegue his wife and daughter Vahti. Viegue appeared in the original game as Olgar.
This setup is different from the original, which had players select their main character and partner from four pairs. Here, the story is told just from Viegue's perspective, although battles are still fought in pairs.
Check out the video below of Chaos Rings Omega, though keep in mind it's entirely in Japanese so I really have no idea what's going on in it:
Chaos Rings Omega is looking pretty great so far, and appears to have many similarities to the original which actually falls right in line with the storyline of Chaos Rings. The game is set for release in Japan next month, and we'll let you know if they announce any information pertaining to a US release. Until then, check out our forums for a discussion on Chaos Rings Omega.
[Via Andriasang]