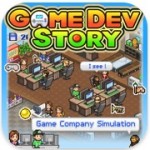 The iOS equivalent of video game crack, Game Dev Story [$3.99/Lite], unexpectedly took the App Store world by storm last fall when it released. This quirky simulation game let you build your very own video game company, releasing titles of your choosing for a wide selection of consoles along a timeline that is strikingly similar to the actual history of video games for the past few decades. Chances are you know all this already, as Game Dev Story has earned accolades from seemingly every corner of the internet, including our own glowing review from last October.
Today Game Dev Story received a new update that adds Game Center leaderboards and achievements to the game. There are now online leaderboards for total game sales, total console sales, total capital for the 20 year span of the normal game, and additional leaderboards that track game sales for every single console in the game. The leaderboards are already chock full of some absolutely insane scores, but it's still pretty fun to see where you stack up in the various areas of the game.
There's also 32 Game Center achievements to earn which are based on various milestones and special feats in the game. While Game Dev Story already did a stellar job of waving a carrot in front of your face leading you to the next in-game goal, it's pretty cool to be able to earn some Game Center points and have a nice variety of special things to shoot for. If you've already got Game Dev Story, go mash away at your app update button and get in on the Game Center fun, and if you have yet to see what all the fuss is about there is a lite version for you to try.