Kotaku is reporting that after the end of March, the augmented reality shooter Star Wars Arcade: Falcon Gunner [$2.99] will be pulled from the App Store. We took a look at this title when it was announced in early November, with its release coming just a couple of weeks later. The game allows you to point the camera of your iOS device towards anything to serve as the backdrop for an intense shootout with Imperial ships as you man the gunner turret on the Millennium Falcon.
The game is published by THQ Wireless, but was developed by a small studio called Vertigore. Josh Shabtai, Falcon Gunner's creative director and head of Vertigore, recently wrote in a blog post that due to THQ's deal with the owners of everything Star Wars Lucasfilm coming to an end, THQ will not be able to allow Star Wars: Falcon Gunner to be sold in the App Store any longer.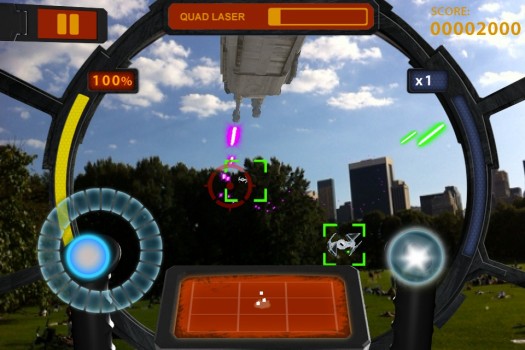 This is bad news for a number of reasons, not the least of which being that Star Wars: Falcon Gunner is pretty cool. But it also means that current owners will never be able to receive possibly critical updates to the game, and that current development plans for Falcon Gunner will never materialize. These included a new Battle for Endor expansion and a special iPad 2 edition, both of which won't see the light of day now. Josh also hints that it could very well be the end for any THQ published Star Wars titles in the App Store, though he can only confirm that to be true for his own game.
That means that games like Star Wars: Trench Run [$2.99], Star Wars The Force Unleashed [99¢/Lite], Star Wars: Cantina [$2.99/HD], and Star Wars: Battle for Hoth [$1.99/Lite] (not to mention a ton of Star Wars branded entertainment apps and books that are published by THQ) may cease to be available come April 1st. This says something about the digital download age that we live in, and is a good reminder to always keep copies of your iOS games since you can't always trust that they'll be there to download again should the need ever arise.
This certainly isn't the first time games have disappeared from the App Store, but if all of the THQ Star Wars games end up getting pulled then it would mark one of the biggest mass pullings of apps that I can think of, not to mention what a huge brand Star Wars is. We'll find out for sure on Friday what the fallout of Star Wars games and apps will be, but if you have any interest at all in any of the games mentioned then it's probably best to play it safe and buy them now, or definitely re-download if you've previously purchased them and don't currently have a copy in your iTunes.
[Via Kotaku]