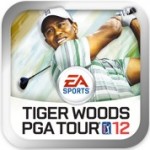 Nearly two years ago, EA released Tiger Woods PGA Tour [99¢] into the App Store. This game was remarkable at the time for providing a fairly robust golf experience that was akin to the Tiger Woods series on home consoles. While the graphics were fairly lackluster, the frame rate was incredibly smooth and it was exciting to have such a fully featured golf game in your pocket. The real standout feature, though, was the touch screen swing meter which offered a very direct and organic way to swing clubs in the game, which we talked about in our original review of Tiger Woods PGA Tour.
Now, after skipping a new release last year, EA is back with Tiger Woods PGA Tour 12 [$6.99/HD]. This iteration of the franchise brings with it several new features and greatly improved graphics, but the gameplay feels extremely similar to the last version. This isn't necessarily bad, as the gameplay was the strongest aspect to the last iOS Tiger Woods, and if you enjoyed that game then you'll likely enjoy this one even more. If you're looking for a completely new mobile golfing experience however, Tiger Woods PGA Tour 12 doesn't offer that.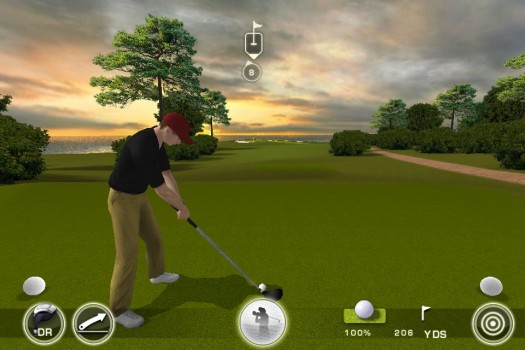 The meat of this year's Tiger Woods is again the PGA Tour which has you entering and competing in the various golf tournaments for cash prizes. Your winnings go towards buying better equipment to improve your game and entering subsequent tournaments throughout the year. Besides this mode, a Tiger Challenge mode has been added where you can play through a number of different types of mini challenges for money, which typically have alternate rules and are generally better suited for a quick play session than playing an entire round or multiple rounds of a tournament.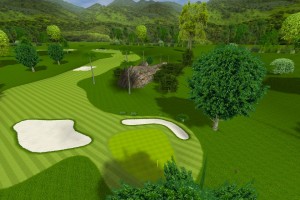 There is also a Closest to the Pin challenge that lets you compete against your Facebook friends to see who can get nearest the pin on a particular hole. It's a pretty neat idea and it works well, but would have been much nicer if it used Game Center instead as most iOS gamers I know don't like mixing their Facebook with their iOS gaming. Also, multiplayer for regular game types is included but unfortunately this is confined to local play over Bluetooth or WiFi. This is a shame too, as it seems like the asynchronous online multiplayer that has been used in several iOS titles would be a perfect fit for a game of golf.
The 8 golf courses in Tiger Woods PGA Tour 12 include 5 that have been recycled from the 2009 game. These are Pebble Beach, St. Andrews, TPC Sawgrass, Doral, and TPC Boston. The 2 new courses are Greenbrier, Hazeltine (which was actually added to the last game by way of DLC), and the Predator which is a fictional golf course that features brutal terrain and a steep difficulty level. Unfortunately, the highly revered Augusta National course from the console versions isn't included.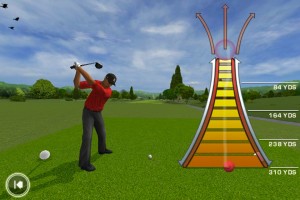 There are 8 professional golfers to play as in the game including Tiger Woods, Paula Creamer, Anthony Kim, Natalie Gulbis, Paul Casey, Jim Furyk, Zach Johnson, or Camilo Villegas. You can also create your own golfer, and although there are a few additional options for clothing customization compared to the previous game, it's still fairly basic.
By far the biggest improvement in Tiger Woods PGA Tour 12 is the visuals. There is still a minimal amount of pop-in present when the camera does a pre-shot flyby of a hole, and character models are still relatively basic, but in just about every other regard the graphics are a huge improvement over its predecessor. The game is quite beautiful to look at, and looks especially good on Retina Display devices or in the native iPad version.
What has not been improved, and is in fact far worse than the last Tiger Woods game, is the commentary. It's sparse, frequently inaccurate, and just plain poorly delivered. Thankfully it can be disabled in the options, and it didn't take very long for me to do so. The rest of the audio effects, such as the menu music and ambient sounds when you're on the course, are all very good, so the lack of commentary isn't especially missed.
Overall Tiger Woods PGA Tour 12 is a big improvement over the original iOS version, but it doesn't feel a whole lot different gameplay-wise. The swipe mechanic for swinging works beautifully, just as it did before. There is a lot of content to play through with the full PGA Tour schedule and Tiger Challenge mini games, and depending on your fondness for Facebook you may get a lot of enjoyment out of the Closest to the Pin challenge as well.
There are further impressions of the game in our forums, and if you enjoyed Tiger Woods on iOS the first time around and are excited by the enhancements in this year's offering, then Tiger Woods PGA Tour 12 is a solid choice for your mobile golfing needs.
Update: There is now a lite version to try for iPhone and iPod touch owners, link has been added below.