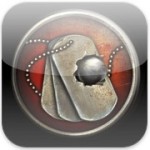 Last week we showed you the new trailer for Gameprom's latest iOS pinball title War Pinball, and over the weekend the game went live in the App Store. It comes in two flavors, War Pinball [99¢] for iPhone and iPod touch and War Pinball HD [$2.99] for iPad. If you've been a fan of Gameprom's iOS pinball titles over the past couple of years, you should be instantly familiar with the basic mechanics and layout of War Pinball. But this new game is easily their best effort yet, and besides containing 3 solid pinball tables within one app it's also a great showpiece for owners of Retina Display devices or the new iPad 2.
The 3 tables in War Pinball are all based on MGM action movies from the 80s and 90s – Platoon, Navy Seals, and Missing in Action. Gameprom has done an excellent job putting these licenses to good use, and each table features visual elements, music, and sound bites that are appropriate to the movie it's representing. Even the table missions follow along with the movies really well, and if you're familiar with the basic plot elements from the movies you'll get a kick out of seeing nods to them as you play through each table. As a quick note, there are several curse words contained in the voice samples taken from the movies, but there is an option to turn these off or set a password lock to restrict access to certain tables if you're concerned about younger players being exposed to them.
Each table in War Pinball is rendered in full 3D and contains more complex designs than any of the previous Gameprom titles. The visuals are crisp and colorful, and look especially great on Retina Display devices. War Pinball HD is also optimized for the iPad 2, and it not only looks razor sharp on the larger screen but it runs at an absolutely insane frame rate, running fast and smooth without so much as a single hitch. I've always loved having an assortment of pinball apps on my iPhone in my pocket at all times, but in the case of War Pinball HD the performance is so impressive on the iPad 2 that it's my preferred platform for playing the game.
One important factor in video game pinball games is the physics, and War Pinball feels very in line with previous Gameprom games in this regard. That is, the physics are very good for a video game simulation, but they don't feel exactly like a real life pinball table. If you're an absolute pinball purist you may not find them completely accurate, but they're consistent and easy to adjust to, and are far better than many of the other video pinballs out there.
If you don't have any experience with a Gameprom pinball game, you can download their first 3 games Wild West [Link], The Deep [Link], or Jungle Style [Link] for free during the next several days to get a good idea of what to expect from War Pinball. These games are all a lot of fun and worth owning anyway, and they can even be purchased as a single app called Pinball HD [99¢/HD] which contains all 3 games and the ability to unlock their fourth game Slayer Pinball Rocks HD [$2.99] as an in-app purchase.
While all of Gameprom's pinball games are very good, War Pinball is definitely the cream of the crop. If you're already of fan of their previous work, this latest game is an easy purchase decision as it contains 3 fun new tables that make great use of their movie licenses. If you need a bit of convincing, try any of their games currently being offered for free, and if you like them then War Pinball is an easy recommendation for an upgrade.