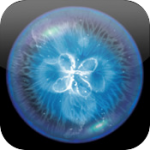 If you're a thrifty gamer looking for a great deal, then Hemisphere Games has got you covered for today. One of the finest games available, Osmos, is now just 99¢ whether you own an iPhone, iPod touch, iPad, or Mac computer. Osmos was originally released as a PC game back in 2009, and went on to win a crazy amount of awards from all four corners of the media.
It was definitely a heartwarming indie developer success story, but when the game was ported to the iPad last Summer, things got even more interesting as Osmos felt like it was meant for the large touch screen and an already great game was suddenly even better. Then just a couple of months later, Osmos surprised us again by making its way to the smaller screen of the iPhone and iPod touch. Despite less screen real estate, Hemisphere did a fabulous job retaining the awesome gameplay experience of Osmos. Finally, when the Mac App Store launched this past January, Osmos returned to its roots as a personal computer game and played just as well as it ever had.
If you need some more convincing, you can check out our full review of the iPad version of Osmos, as well as our initial impressions on how it played when it released for iPhone and iPod touch. Honestly though, for 99¢ each, they just don't get much better than Osmos. It has a relaxing, puzzle-like aspect to it, but it still remains a challenging game. The audio and visuals make for a unique experience, and it's the type of game that you can just get lost in while playing. It might be too slow going for some gamers, but for myself and plenty of other players around the world Osmos is a must have title.
App Store Links: