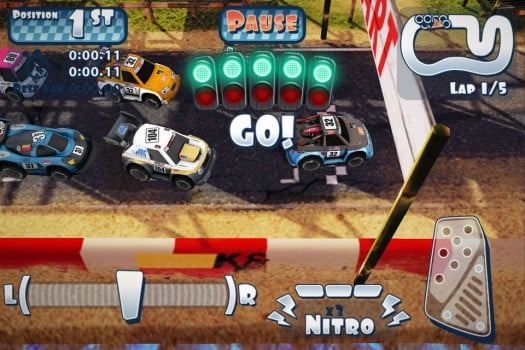 We met with The Binary Mill developers this week at GDC and discovered they had a very cool looking racing game that's in the works. The Binary Mill were the developers behind the bullet-hell shooter Assault Squadron.
Mini Moto Racing puts you in the driver's seat of a top view of one of 4 different vehicles, each with different handling characteristics. The different vehicles include Sports, Hatch, Big-Rig, and Pick Up. The sports car hugs the road, while the hatch allows you to drift. Individual characteristics are upgradable including grip, top-speed, acceleration, and nitro, with specific models favoring one characteristic or another.
The game comes with both single-player campaign mode as well as individual races and four player local multi-player. Campaign mode consists of 5 different cups with 4-6 races that you need to complete with bronze or better in order to advance. Every race gives you an opportunity to earn money and other upgrades on each track, so you can feel like you're making some progress even if you don't win every time.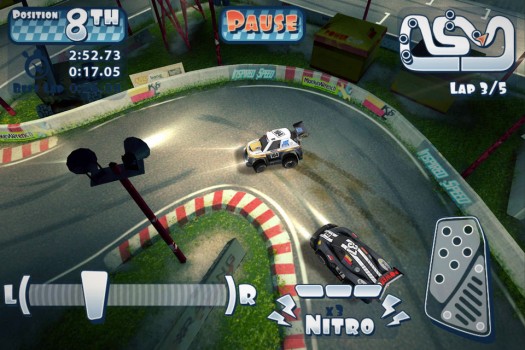 The most striking thing about the game when you first see it is the beautiful graphics and almost toy-like car feel to the game. The game is rendered in 3D with a dynamic camera. This also allows them to do cool things like nighttime courses and changes in camera angles and views as you accelerate down the track.
Be sure to watch the video. The game comes with 4 different customizable controls that should appease most players. The game should be coming out in the next month or two, so we'll keep tabs on it and take a closer look when it's done.