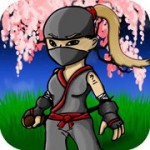 Back in January the folks at Team Phobic, the developer responsible for the excellent platforming games Bounce On [$1.99/Lite] and Bounce On 2: Drallo's Demise [$3.99/Lite] as well as the puzzle platformer GravBot [$1.99/Lite/HD], announced their newest iOS title called Undead Island. Undead Island is another platforming game but is more action-oriented than any of Team Phobic's previous efforts, and still features their colorful art style and solid level designs.
Just last week Team Phobic released the first trailer for Undead Island which shows off a good amount of gameplay, and so far is looking fantastic:
I've had a preview copy of Undead Island for the past week and have been enjoying it a ton. It really brings me back to those classic side-scrolling action games from the arcade and 16-bit eras. Undead Island will feature 16 levels on release with attractive graphics built for the Retina Display. Game Center will also be included for high score and achievement purposes. The game has been submitted already and Team Phobic hopes to have Undead Island out in time for GDC, which starts at the end of the month.
There's currently a discussion about the game in our forums, and if you're a fan of any of Team Phobic's previous iOS efforts, or just a fan of solid action-platforming games in general, then you'll be in for a treat when Undead Island releases sometime in the next couple of weeks.