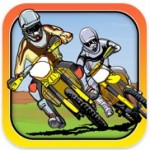 Last month we reviewed Mad Skills Motocross [99¢], a fast-paced 2D side-scrolling motocross racing game. We enjoyed the title quite a bit as it had sharp graphics, plenty of different tracks, a nice online challenge system through OpenFeint, and above all else a stellar physics system. One problem many players commented on though was the immense difficulty of completing the single player campaign. The game started out simple enough as it eased you into the gameplay mechanics, but about a third of the way through the career mode the difficulty ramped up pretty quickly, and due to the requirement of completing every race in a division before unlocking a new division many players found themselves unable to progress.
Developer Turborilla heard these cries for help, and have rushed in to save the day with the latest update to Mad Skills Motocross. There is now an Amateur difficulty setting in the options that offers an easier AI opponent to race against, and your bike can withstand more damage before breaking as well. If you liked the original difficulty don't worry, as the Pro option keeps things the same as they were before. Also, a previous update made it so you only needed to beat all but 2 of the races in a division to unlock the next, thus making it easier to move on if you got stuck on a particularly hard race.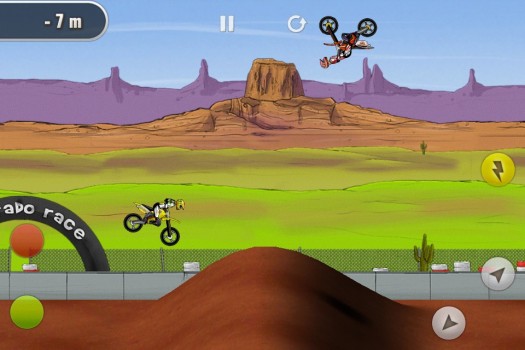 Besides these difficulty tweaks, Turborilla has added an interesting new feature that adds to the competitive nature of Mad Skills Motocross. Before, you could set a time on a race and then send off a challenge to one of your OpenFeint friends for them to try and beat. Now, you can actually choose any of the scores on the leaderboards and take a crack at beating that person's ghost. Or you can simply watch the replay of how that score was attained, possibly gleaning some tips from how they completed the course. This new functionality is a really nice addition to such a score-focused game, and it makes competing with the best players in the world more accessible to everyone.
I liked Mad Skills Motocross before, but I do admit I had my fair share of moments where I felt like throwing my iPhone across the room due to the difficulty. The new Amateur mode makes things significantly easier, and consequently more fun, and the Pro mode is still there for when I feel ready to take on that challenge. The new ability to challenge ghosts from the leaderboards adds a whole new layer of competitiveness to the game, and I even enjoy just watching some of the top times and marveling at the skill of those elite players. With these past two updates, Mad Skills Motocross has easily become my favorite racing game of this kind, and if you haven't checked it out yet now is the perfect time as it's currently on sale for just 99¢ for a limited time.