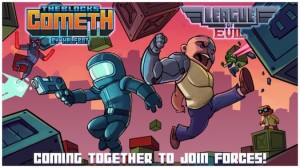 Back in January, one of the unfortunate aspects of developing for the App Store reared its ugly head. Developer Halfbot's popular Flash title The Blocks Cometh was stolen nearly pixel for pixel and released in the App Store by a different developer. This sort of thing has certainly happened before, but what made it even worse is that Halfbot didn't even find out about this injustice until they saw the counterfeit version of their game in the App Store's New & Noteworthy section. So not only did their game get released under their noses while they were in the midst of porting it to iOS themselves, but Apple even featured it.
Halfbot quickly took action and informed Apple of the situation, the wheels of justice cranked ever so slowly, and eventually the unauthorized version of The Blocks Cometh was pulled from the App Store. Since then, Halfbot has finished up the actual port of The Blocks Cometh for iOS and is set to release the game tomorrow. Here's a quick trailer for the game:
If you aren't familiar with The Blocks Cometh, it's a game similar to The Incident [$1.99] where an endless supply of blocks come falling at you from the sky and you must continually stay on top of them as they pile high into the sky, while also avoiding getting crushed by one. You're able to jump, double jump, wall jump, and destroy the blocks using various offensive weaponry to help you achieve great heights. You can check out the original Flash version of The Blocks Cometh to get an idea of the gameplay.
What is really exciting is that fellow indie developer Ravenous Games, creators of League of Evil [99¢/Lite], has teamed up with Halfbot to cross-promote new content in each others' games. We liked League of Evil a lot when we reviewed it earlier this month, and fans of the game can look forward to an update that adds 30 brand new levels that are themed after The Blocks Cometh. Conversely, when The Blocks Cometh launches tomorrow there will be some unlockable characters that have been taken directly from League of Evil, and offer new ways to enjoy the game.
The update for League of Evil has already been submitted and is currently "in review" with Apple, so be on the lookout for it as it can be released just about at any time. As stated, The Blocks Cometh is already approved and set to release tomorrow, which typically means later tonight for most everybody in the US. We'll definitely be taking a look at it just as soon as we get our hands on it. If you are a fan of awesome pixel art, retro chip-tunes, and solid platforming then prepare to have an enjoyment overload when The Blocks Cometh is released and League of Evil gets updated with new content.