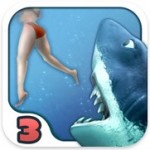 Back in April of last year, a fun arcade survival game called Hungry Shark was released in the App Store. The game had you controlling a shark with an insatiable appetite as you swam around a huge underwater world exploring your environment and gobbling up delicious sea creatures (and hapless humans). The goal was to continuously be eating so as to sustain your ever-decreasing health meter, scoring points and multipliers along the way based on what and how many creatures you were eating. It was a formula that worked extremely well and we thoroughly enjoyed Hungry Shark in our original review, and the game only got better with a massive Part 2 update that hit a couple of months later.
Now developer Future Games of London has released Hungry Shark – Part 3, a brand new entry in the series. The gameplay remains largely the same, swimming around using either tilt controls or a virtual joystick and basically eating everything in sight. What Hungry Shark – Part 3 brings to the table is high resolution Retina Display graphics, a humongous new world to explore that includes an underwater volcano, a ton of new creatures to chow down on, and many new hazards and enemies to avoid. There's also Game Center integration for comparing high scores and unlocking achievements.
Best of all, right now the original Hungry Shark – Part 2, which also contains Part 1, is available for free. If you're curious about Hungry Shark – Part 3, give the original a download as the gameplay is nearly identical to the new game and should give you a great idea what to expect from the new game. Heck, even if you're already sold on Part 3 download Part 2 anyway as it essentially contains two full games for free. It's worth pointing out though that Part 3 "feels" a bit better than the first two, with movement and controls that seem faster and smoother, and the higher resolution graphics look fantastic. This doesn't make the original two episodes any less fun, but in my opinion Part 3 is the definitive Hungry Shark experience.
For iPad owners, you can actually buy all 3 episodes in one package as Hungry Shark Trilogy HD, and Part 1 is available for free as a sort of lite version. No matter which device or what episode you end up playing, Hungry Shark is a really fun series, and I'd definitely suggest at the very least downloading Hungry Shark – Part 2 while it's currently free.
Update: Well, as is common on the App Store, not too long after posting this Hungry Shark – Part 2 reverted back to paid. However, the standalone version of Hungry Shark – Part 1 has always been free so I've updated the links below to include this for those that want a free version to try before buying.