Call me crazy, but I really want a Real Racing 2 [$4.99] update subtitled "Real Harder." It would include new animations, tweaked drifting physics, and exciting dashboard options like, say, the choice between tape decks or CD players. But in the real world, where stupid stuff like my fantasy patch never happens, this latest Real Racing 2 update will do, as it includes six new events, leaderboards and rankings, and cool multiplayer tweaks.
Let's dive in. On the online front, Firemint notes that the update is putting the breaks on unsavory drivers by dropping in "new measures" to prevent idiocy. Also, the servers have been given some sort of spit and shine which should lead to better performance.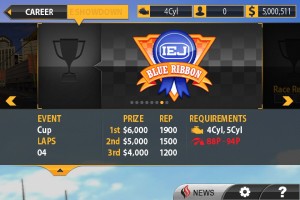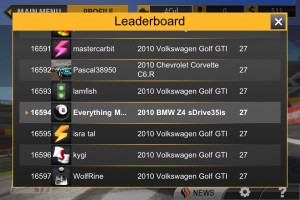 Of course, because of the new rankings, two changes have been made: now your starting position will be based on your rank, and more importantly, lobbies will show your rank and point rewards as you earn them.
As for those new events, here's what you'll get:
IEJ Blue Ribbon (Cup)
Alkeisha Island Dash (Head to Head)
Volvo STCC Elimination (Elimination)
NRGee 6 Cyl Cup (Cup)
Motul Autech Face-off (Head to Head)
Twilight Time Attack (Time Trial)
That's a lot of content, eh? Wait — I got a name for this update: "Drive Free or Event Hard." Not bad, right? I should get a job. Marketers, you got my number. Give me a call sometime. I'm full of this.