Fear not, Angry Birds fans, for more content is now available for your game of choice. In between their frequent dips in their money bin, the folks at Rovio Mobile managed to find the time to drop another update to its season version of Angry Birds, aptly titled Angry Birds Seasons [.99 / HD]. This time, it's Valentine's Day content.
As usual, you'll find more swine to slay, though you'll be stomping the little green fellas in levels with soft shades of pinks, blues, and reds. Also, as you'll notice here, the structures in levels tackle Valentine's themes and as if that wasn't enough, there's also fluffy little hearts that float. Overall, you're getting 15 levels and several new Achievements to earn.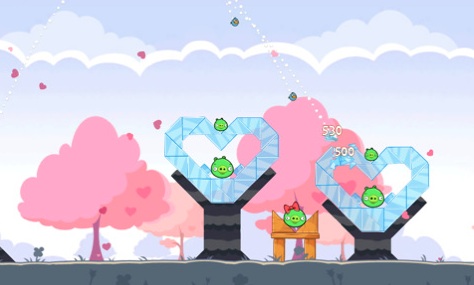 Both versions of the game, the HD for iPad and the regular iPod and iPhone version, have received this update, so definitely go check this out if you've got a few more minutes. Or, hey, if you're got a lot of time on your hands, send a Valentine's Card from the game. Kidding (or am I!?)
In other news, Angry Birds [99¢ / HD] proper played a (very small) part in the Super Bowl last night, as a hidden code was featured in an ad for the upcoming movie Rio. Videos of anything to do with the Super Bowl or Super Bowl commercials have been disappearing from YouTube all day, but here's a decent one that's still up of the ad:
To unlock the secret level, go to level 13-12, and shoot the white bird backwards to bomb the hill that the birds are on. A football shaped golden egg will appear, which will then allow you to play a special Rio level. Upon beating said level, you'll be prompted to enter a contest to go to a special screening of the movie in Rio de Janeiro. If you don't feel like jumping through all of these hoops, you could just click here and enter the contest but that seems like much less fun.