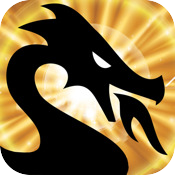 Highborn is an excellent turn-based strategy game from Jet Set Games with colorful graphics, humorous characters, and engaging strategic gameplay. The game boasts a nice asynchronous online multiplayer mode using OpenFeint, but also contains a satisfying 9 level single-player campaign mode. The developers have hinted at a forthcoming Chapter 2 extension to this campaign for a while, and today Highborn [99¢/Lite] and Highborn HD [$2.99/Lite] were updated to include this long-awaited addition.
Chapter 2 can be unlocked through a 99¢ in-app purchase (or $1.99 on iPad) and contains 8 brand new missions with new enemies, allies, and structure types. This doubles the size of the original game, if you don't take into account the tutorial level. Also included in this update is another long awaited feature, shake to undo, as well as an assortment of other nifty improvements. Units now display their available attack radius when moving, monoliths display what spells they hold and a cool-down timer in between uses, and there's now a screen following a mission that displays various statistics about your battles.
The developers also note that the 3D character models from in-game battle sequences have also been improved, though this doesn't make much of a difference if you're an owner of a Retina Display device. Highborn is not optimized for these high density screens, so most of the graphics and text have a jagged or blurry look. This is literally the only complaint I could lob at the game, and quite honestly it is totally forgivable in the face of such enjoyable gameplay. Retina Display support in the future would be icing on the cake, but the developers have stated this will most likely have to wait for the sequel.
You can check out our original review of Highborn or the thread in our forums for more information on the game, and if you already own either version make sure to grab this new update and give Chapter 2 a spin.