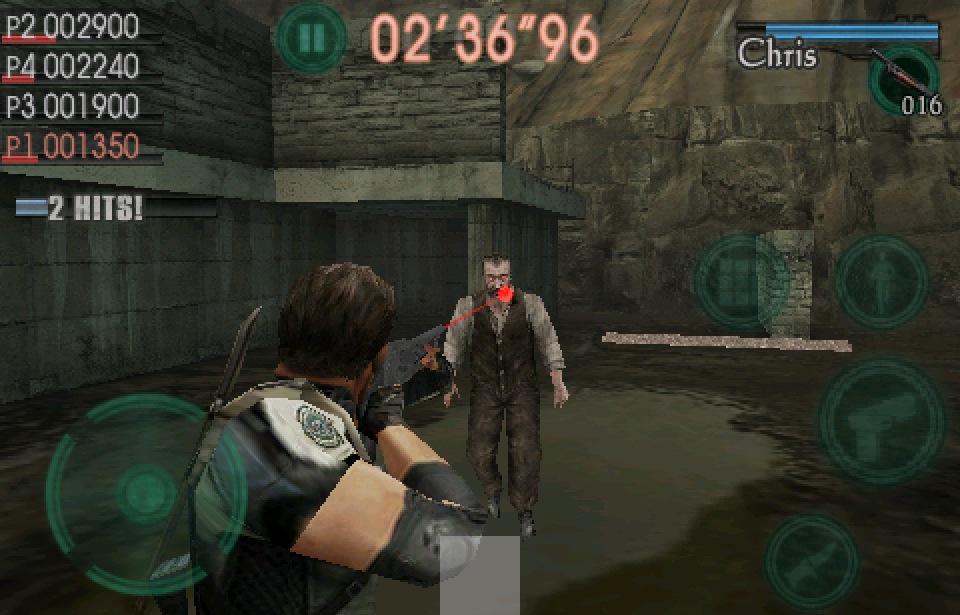 I was surprised to find out at yesterday's Capcom event that the company is readying another game from the Resident Evil series for iOS, but I was even more surprised to learn that it will be a multiplayer-focused game with online play through Game Center. It's called Resident Evil Mercenaries Vs., and it's based on the Mercenary mode that is found in several other Resident Evil games. I was able to play around with a work-in-progress version of the title, and although the technical performance seemed pretty lacking the foundation of the game was a lot of fun, and could prove to be an entertaining alternative to first-person shooters when you are in the mood for some online fragging.
Resident Evil Vs. will feature 4 player online play, either in teams of 2 or free-for-all. Besides shooting at each other, all 4 players will also have to deal with the constant threat of zombie attacks as there are a number of them roaming the map at any time. Killing zombies or your human opponents will earn you points, and the player with the highest score at the end of the timed round is the winner. Dying will reset your score to zero, but various first-aid items can be picked up and used to help prevent that. Also, if you're getting whooped pretty hard you'll be able to summon an AI helper to battle with you, like the creepy chainsaw guy with the burlap sack on his head from Resident Evil 4.
The game uses the same control scheme from Resident Evil 4: Platinum [$4.99/Lite/HD], with a virtual control stick for movement and a set of context sensitive buttons for performing everything else, so if you're already familiar with that game you'll be able to jump right into this title. When you're not able to venture online, Resident Evil Vs. will still have things for you to do. If you have an iOS owning buddy nearby who has a copy of the game then there is a local Bluetooth multiplayer mode which supports two human players and two AI players, and functions identically to the online mode. In addition there is a Score Attack mode which is single player with 3 AI controlled opponents, and a Coin Shooter mode which has you hunting down and shooting coins like in Resident Evil 4.
The gameplay in Resident Evil Vs. is surprisingly fun, but some definite drawbacks were apparent in this preview build. Connecting for local multiplayer provided a horribly laggy experience, which may be due to having two Bluetooth devices in such close proximity to one another but even then it didn't instill confidence for the local play. I will be very interested to see how the game performs online using Game Center for matchmaking, as this can easily make or break the experience. On a more positive note, the game ran really smooth when playing a single player game with AI opponents, which was incredibly fun and is what you can see in this video:
Other slightly disappointing aspects to Resident Evil Vs. are the lack of characters and maps. The game will launch with just two playable characters, Chris Redfield and Jill Valentine, which isn't much but they do at least have slightly different weapons. More unfortunate is that there will only be one map initially, and although it's a large map with plenty of intricacies it's bound to get old pretty quickly. Capcom is keen on adding more characters and stages down the road, so hopefully the lack of variety gets improved. The important thing though is that there are flashes of brilliance with Resident Evil Vs. It may not be the prettiest or most full-featured game around, but it sure can be a lot of fun.
If performance issues get smoothed out and Game Center matchmaking is solid, this could be a real winner. Our members are currently discussing the game in our forums, and you can look for Resident Evil Mercenaries Vs. to launch sometime in February if all goes well with Apple approval.