Rovio Mobile is still attempting to court the four or so people on the planet that don't own Angry Birds [$.99 / HD] proper. The beloved creator of the ever-popular physics-based puzzle game has just released two new "free" versions of the title that, in contrast to the Lite versions, feature no content from the actual release version. In fact, Angry Birds Free [Free / HD] offers brand new, never-before-seen levels.
In total, it's twelve levels split into four episodes. The App also supports Game Center and, just like the full, yet free Android version of the game, ads. I suppose if the game doesn't convince you to pony up $.99, perhaps the Nike promotional stuff might. Or, hey, how about these super-cute kids: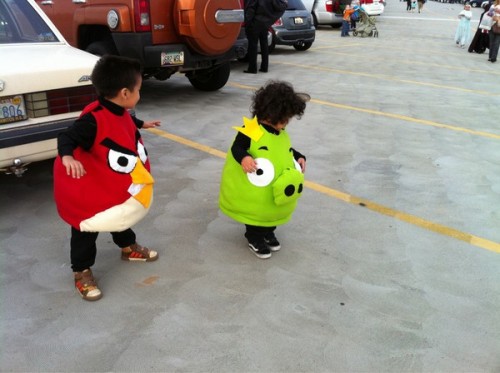 Photo courtesy of The Review Crew
Think of this app as an updated demo of the core game. Rovio, as you well know, has vigorously supported Angry Birds with content over the last year, dropping in new level after new level and new bird after new bird in a constant stream of free updates. This demo reflects that. If you still haven't taken the plunge, definitely give this a look. Or, hell, give it a go if you're just looking for more levels.