Now this is a curious development. According to the PlayStation Blog, Sony is on the verge of releasing an official PlayStation iPhone app. In the initial version, which is launching "very soon," players will be able to connect to PSN to see their trophies and see what their friends are doing. In addition, you'll be able to browse through game listings, get hardware information, see announcement, and then share those things via Twitter, Facebook, and Email. The free app is also going to be updated with "tons more features" in the future.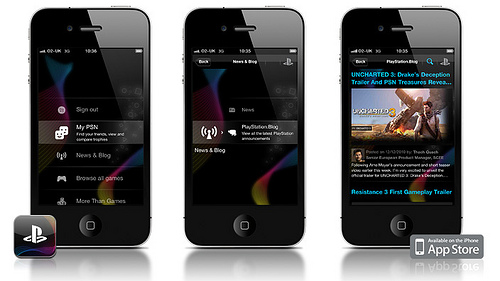 What's got us scratching our heads about this is that it's no secret that the iOS platform is a fierce competitor not only to the Nintendo DS, but also to Sony's own PSP. Historically, console rivals have taken great pride in the exclusivity of their associated networks. You can't access PSN via a Xbox 360, much like how you can't access Xbox Live via a PlayStation 3. Microsoft has even had apps removed that connect to Xbox Live profiles.
Either way, we're incredibly curious what these additional features are going to be. Just for the sake of wild speculation– The Psx4iphone emulator available for jailbroken devices can run PSone games at respectable frame rates on newer iOS devices, meaning that eventually this PlayStation app could technically be capable of running the same PSone classics currently available for sale on PSN. Realistically, we don't ever see that happening, but at the same time… Who ever thought we'd be playing Sonic games on a non-Sega console?
We'll have to wait and see what this app evolves in to, but in the meantime, I can't help but wonder what Marcus thinks of all this.