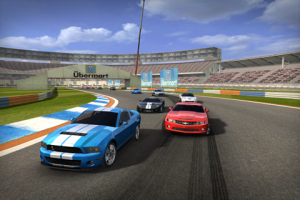 Over the last few weeks Firemint has been teasing us with various snippets of information, a screenshot here and there, and even a development gameplay video, but all of these things left so many questions unanswered. Today, they're letting the cat out of the bag with the biggest information flood yet that we've seen on Real Racing 2. First off, the game will be released on the 16th for $9.99.
But what will you get for your ten bucks? 30 licensed cars from several manufacturers (listed in detail below), and when you're actually playing, you'll be up against 16 racers either locally or against online opponents in multiplayer races. Firemint is promising "well over 10 hours" of gameplay in the career mode which spans a wide range of event types where players will earn in-game currency to both buy new cars and upgrade existing cars. Game modes include the career mode, quick races, time trials, and both local multiplayer with 8 players and online multiplayer with 16 players.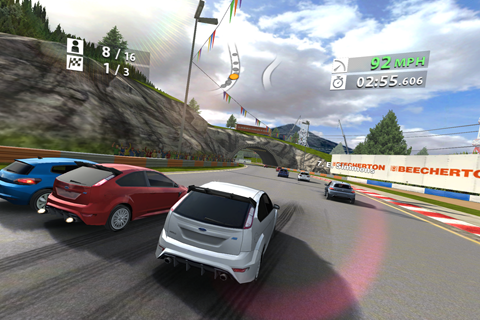 15 locations in all are included, which make up 40 miles of race track. There is a vehicle damage system as well, which is a little surprising as usually licensed cars and vehicle damage go together like oil and water. Firemint's Cloudcell and Game Center are both supported along with storing your game saves online. Just like the original, there's a wide range of control options and camera angles including the full 3D cockpit view with (what appears to be) extremely accurate car interiors. Also, the HUD has a new minimap which can be toggled on or off which also displays rival racers.
Expect a full review from us when the game launches this Thursday. Here is the full list of cars included:
2010 BMW M6 Competition Edition
2010 BMW M3 GTS
2009 BMW M3 GT2
2010 BMW Z4 sDrive35is
2006 BMW Z4 M Coupe Race Car
2010 Chevrolet Cobalt SS
2010 Chevrolet Camaro SS
2010 Chevrolet Camaro GS Race Car
2010 Chevrolet Corvette C6 ZR1
2010 Chevrolet Corvette C6.R
2010 Ford Focus RS
2010 Ford Shelby Mustang GT500
2005 Ford GT
2010 Jaguar XKR
2010 #33 Jaguar RSR XKR GT
2010 Lotus Exige
2010 Lotus Evora
2010 Lotus Evora Cup
2010 McLaren MP4-12C
1995 McLaren F1 GTR Race Car
2010 Nissan GT-R (R35)
2010 MOTUL AUTECH GT-R (car #23 – NISMO, GT500)
2010 Nissan 370Z (Z34)
2010 MOLA 350Z (car #46 – MOLA, GT300)
2010 VW Golf GTI (A6)
2010 VW Golf R (A6)
2008 VW Scirocco (A6)
2008 VW Scirocco R (A6)
2010 Volvo C30 R
2010 Volvo C30 STCC Race Car