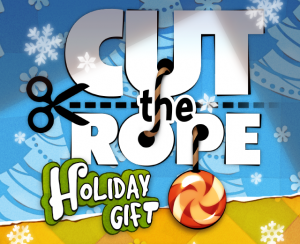 Like many iOS games around this time of year, Zepto Lab and Chillingo are readying a holiday themed edition of everybody's favorite feed-a-candy-that-is-swinging-on-a-rope-to-a-tiny-monster game, Cut the Rope. Unlike some games, however, Cut the Rope: Holiday Gift will actually be a standalone game rather than an update to the existing one. Don't go throwing a fit just yet though, as you won't be required to make an additional purchase since Cut the Rope: Holiday Gift will be launching for free. I had a chance to experience the game first hand at the EA Mobile event last week, and it's looking like another great edition in the epic struggle to feed Om Nom.
There will be 25 brand new levels to play through in Cut the Rope: Holiday Gift, and of course the entire game is drenched with the sights and sounds of Winter holidays (formerly known as Christmas). Most interesting, however, is the introduction of holiday socks (formerly known as Christmas stockings). These always come in pairs, and basically act as teleports for Om Nom's candy. Drop a piece into one and it will pop out of the other, giving you yet another way to transport candy to his gaping maw.
Besides the 25 new levels and the new teleporting socks game mechanic, Cut the Rope: Holiday Gift will also feature Game Center with new achievements to unlock. While the OCD part of me that hates having multiple icons for essentially the same games (I'm looking at you Robot Unicorn Attack series) wishes this was just an update, I really can't look a holiday gift horse in the mouth. Who knows, perhaps sometime down the line this edition will be added into the original Cut the Rope. Be on the lookout for Cut the Rope: Holiday Gift as it should be available in time for Christmas.
Update: Well that didn't take long. Less than half a day after posting this preview, and Cut the Rope: Holiday Gift has arrived as a universal app. A discussion thread for the game has been started in our forums, and you can grab the game using the link below.