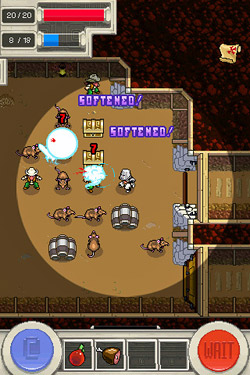 We're big fans of Dinofarm Games / Fusion Reactions' arcade-style dungeon crawler 100 Rogues [App Store]. The game, which we reviewed back in May, is a re-imagination of the typical Rogue-like formula. It features the typical elements of the genre — near-certain death, randomly generated maps and loot, and a foray into the depths of an enemy-riddled pit — but delivers it in a way that makes you feel you are playing something else entirely. In our initial review, we found it to be pretty brilliant.
In that review, we spoke of the long list of planned features that the developer had in store for the title. Here, half a year later, it's clear those weren't empty promises. The developer released all of nine updates to the game through October, and two weeks ago released version 2.0, a massive update that enhanced the gameplay in a great many ways.
Some of the enhancements that came with version 2.0:
Hell! Another world, with new levels, music, monsters and maps to explore, has been added to the end of the game, appropriately situated between the Dungeon and Satan
New Boss: A new, Dungeon-themed boss has been placed between the Dungeon and the new Hell world
Amafyst: The Fairy Wizard's basic projectile skill now leaves behind Crystal Caltrops upon impact, each lasting 10 turns dealing damage and slowing monsters that walk on them. Each skill point in Amafyst creates a higher number of more damaging crystals
Easy Mode now spans all three game worlds
Map Generation: Each map is now comprised of a mix of handcrafted and randomly generated rooms
Mob Clustering: Monsters now spawn more tightly in groups, and only spawn in mobs within rooms, reducing the incidence of difficult encounters in hallways.
Game Center can now be disabled via 100 Rogues user preferences in the Settings App
Stability improvements throughout the game
And the continuing evolution of 100 Rogues is showing no sign of slowing down. The version 2.1 update has been submitted to Apple and should go live later today or tomorrow. And it's a pretty significant update.
A partial list of what version 2.1 will bring:
Two new weapons
One new armor type
End Cutscene now rendered in-engine (Apple's movie player has been entirely removed from the game. Enjoy the greatly reduced update size!)
New Bandit Hole 1 music
Custom Playlist support via Options Menu
iOS 4.2 support (Game Center / Multi-tasking on iPad)
Load Times improved throughout the games
Many various bug fixes
In addition, a new, third player class will be released by December 15. This new class is known as the Skellyman Scoundrel, which lead designer Keith Burgun describes.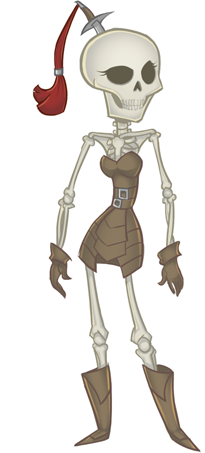 In terms of character, the Scoundrel is a member of the Skellyman race, a race of Skeleton-People created by magic many generations ago. This means that they actually reproduce and have baby skeletons which grow into adult skeletons – they're not undead and they don't come from humans. The Scoundrel in particular happens to be an undead Skellyman, however, as she was killed by her lover in life – he stabbed her in the back of the head with a dagger. She now keeps it in her skull (and it ends up looking like a fashionable ponytail because of its tassle) and stalks the dungeons looking for greater and greater kills with which to satisfy her thirst for revenge. When you get enough backstabs, you can deliver the ability SKELLY VENGENACE, a skill which makes the skellyman pull her lover's dagger from her skull and plunge it into a target. This skill can do *MASSIVE* damage, like you've never seen in 100 Rogues.
This Leap Attacking, Skelly Vengeance-dealing new class is all about stealth, mobility, speed, and dealing great damage to singular targets. It should mix up this already heavily-updated title rather nicely. Hats off to the folks behind the game for so admirably keeping the ball rolling with 100 Rogues, as well as for providing us these exclusive details and (inset) design sketch.