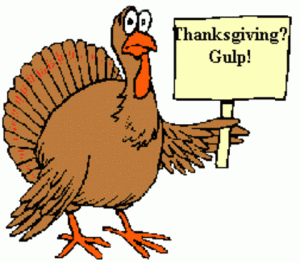 Thanksgiving is one of my favorite holidays, and has been all my life. What's there not to love about an entire day revolving around eating massive amounts of turkey, stuffing, and all the other fixings? Sure, I could do without needing to feign interest in football, but thankfully tryptophan overload usually allows me to sleep through all of that. If you're looking for something to do this year while you do your best to either pretend to be interested in football or anxiously wait for the food to be done, there are a ton of sales on the App Store to consider.
The basis of this post comes from SirAwesome's awesome thread in our new price drops, freebies, and deals forum. He put together an extremely exhaustive listing of everything that's on sale, and the thread is good to stop by just to make sure you're not missing anything that might have since gone on sale since the writing of this post. Also, some of these sales start at different times, if something isn't the price that is listed here, check back later (or Friday).
First off, here are some of what we consider must-have games that are on sale. We've positively reviewed all of these, and really recommend picking them up if you're going to grab anything from this price drop extravaganza-
Need for Speed Shift, $2.99 This is an absolutely fantastic arcade style racer that actually manages to capture almost everything that made the console version of the game fun. A must-have at 99¢.
ChuChu Rocket!, $0.99 A classic Dreamcast puzzle game that I paid full console game price for that I don't regret one bit. A recent updated added a ton more content, making this a no-brainer for a buck.
Ravensword: The Fallen King, $2.99 This is the cheapest that this open-world RPG has ever been. It hasn't exactly aged well compared to more recent 3D games (especially looking forward to Aralon) but it's still a ton of fun and probably your best bang for the buck with hours upon hours of gameplay.
Defender Chronicles - Legend of The Desert King, $1.99 A cool twist on tower defense that has been updated a ton with all kinds of new content since its initial release. If you like tower defense and earning experience points, this is the game for you.
Harbor Master, Free Harbor Master has been selling for $1.99 for quite a while now, if you missed the initial 99¢ launch price of this fun little content-packed line drawing game, here's your chance to snag it again.
Jet Car Stunts, $1.99 Half racing game, half puzzle platformer. Pilot your jet car through a series of ridiculous jumps, twists, turns, and other obstacles. Retina Display graphics looks awesome, and the game runs fantastic on every device I've ever played it on.
Chopper 2 - GameClub, Free This awesome sequel is loaded with all kinds of cool options, such as being able to control the game running on your iPad with your iPhone. Chopper had a huge fan following, and Chopper 2 doesn't disappoint.
Game Dev Story, $4.99 If you're looking for a game that will quite literally suck up your entire day (and battery in the process) look no further than Game Dev Story. Create your own game company, and even release your own game console eventually. It's awesome.
MovieCat! - Movie Trivia Game, $1.99 This is by far the best movie trivia game that I've tried… And it's cat themed, what's not to love? If you like movie trivia, download this now.
And here's everything else we consider noteworthy that's on sale-
Namco
99¢
BIT.TRIP BEAT
BIT.TRIP BEAT HD
Dug Dug Remix
Galaga Remix
Garters & Ghouls
Gator Panic
Inspector Gadget
Isaac Newton's Gravity
Lt. Fly Rise of the Arachnids
Mr. Driller
Ms. PAC-MAN
Noby Noby Boy
PAC-Attack
PAC-Chain
PAC-Chain Compact
PAC-MAN
PAC-MAN for iPad
PAC-MAN Championship Edition
PAC-Match Party
PAC-Match Party HD
PAC-MAN Remix
Pole Position: Remix
Pool Pro Online 3
Pool Pro Online 3 for iPad
Star Trigon
Tamagotchi: Round the World
Time Crisis Strike
Tinseltown Dreams: The 50s
$2.99
Ace Combat Xi
i Love Katamari
Ridge Racer Accelerated
$4.99
Time Crisis 2nd Strike
Gamevil
99¢
Zenonia
Hybrid: Eternal Whisper
Soccer Superstars
$2.99
Zenonia 2
Hybrid 2
Baseball Superstars 2010
EA
99¢
Madden 11
Need For Speed Undercover
The Sims 3 Ambitions
Tetris
RISK : The Official Game
Monopoly
Monopoly Here & Now: The World Edition
SimCity Deluxe
Need for Speed Shift
The Sims 3 World Adventures
Scrabble
The Game of Life Classic Edition
The Simpsons Arcade
Reckless Racing HD
Yahtzee HD
$4.99
Rock Band
Mirrors Edge for iPad
Scrabble for iPad
Madden NFL 11 for iPad
Gameloft
99¢
Let's Golf!® 2
NFL 2011
Hero of Sparta II
Iron Man 2
Brothers In Arms® 2: Global Front
UNO™
The Settlers HD
Splinter Cell Conviction™ HD
GT Racing: Motor Academy HD
Brothers In Arms® 2: Global Front HD
Iron Man 2 for iPad
Let's Golf! 2 HD
Hero of Sparta 2 HD
Prince of Persia: Warrior Within HD
$4.99
Real Golf 2011
Big Pixel Studios
99¢
Meow Meow Happy Fight
Meow Meow Happy Fight HD
Piyo Blocks
Piyo Blocks 2
Glu
99¢
Deer Hunter 3D
Paperboy: Special Delivery
Build-a-Lot 2: Town of the Year
Build-a-Lot 2: Town of the Year HD
World Series of Poker Hold'em Legends
World Series of Poker Hold'em Legend for iPad
Sega
99¢
Chu Chu Rocket
Phantasy Star II
Golden Axe
$2.99
Super Monkey Ball 2: Sakura Edition
ChuChu Rocket HD
$4.99
Sonic The Hedgehog 4™ Episode I
Bootant
99¢
Victory Day
Crazy Tanks
Pirate Waters
BeeCells HD
$1.99
Victory Day HD
uBoot HD
Crazy Choppers HD
99 Games
99¢
Wordsworth
Mystic Emporium
Christmas Sudoku
Create a Mall
Wordulous
Create a Mall HD
Mystic Emproium HD
Christmas Sudoku HD
Chillingo
99¢
Billabong Surf Trip
Radio Flare REDUX
Radio Flare REDUX HD
Ravensword: The Fallen King
Parking Mania HD
Defender Chronicles – Legend of the Desert King
Master of Alchemy
Master of Alchemy HD
Fiona's Flowers
$1.99
Cogs HD
IUGO
99¢
Toy Bot Diaries Compilation
A.D.D. Addictive Dumb Distractions
Daisy Mae's Alien Buffet
Freeballin' 5 Pinball Tables
Spy Bot Chronicles
Star Hogs: Online & Campaign Battles
Toy Bot Mini Missions
Zombie Attack!
Zombie Attack! Second Wave XL
Cliffed XL
Implode! XL
Everyone Else
Free
Chop Chop Runner
Depict
Aqua Moto Racing
Babylonian Twins – Escape
Racer
99¢
Harbor Master
Mr. Bill
Jet Car Stunts
Cabela's Dangerous Hunts 2011
Rapala Pro Bass Fishing
MovieCat!
Fantastic Contraption
Azkend
$1.99
The Secret of Monkey Island Special Edition for iPad
Monkey Island 2 Special Edition: LeChuck's Revenge for iPad
$2.99
Chopper 2
Game Dev Story
Fruit Ninja HD
Fantastic Contraption 2
Ragdoll Blaster 2 HD
$4.99
Crimision Gem Saga
UFC Undisputed 2010
---
Keep in mind, this isn't everything that has seen its price slashed. For a full listing, check
AppShopper
where there are listings for:
Also, to see iPhone, iPad, or Universal games just click the respective buttons on the top left of the AppShopper listing. Oh, and if you haven't yet, be sure to check out the AppShopper App [Free] itself. It's got push alerts and all kinds of other slick features so if what you want isn't on sale this time around, you will get a push alert as soon as it is.
Happy Thanksgiving everyone!