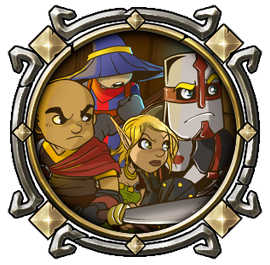 Last month we came across some interesting news about an iOS version of the upcoming Dungeon Defenders game that will be launching for PC/Xbox Live/Playstation Network early next year. Dungeon Defenders is a tower defense game with a healthy dose of action/RPG elements thrown into the mix, though at the time of our preview there were scant details available about the looming iOS version of the game. Late last night, developer Trendy Entertainment released a brand new video of the mobile version of Dungeon Defenders, which will be called Dungeon Defenders: First Wave.
While the core gameplay of Dungeon Defenders: First Wave appears to be rooted in the tower defense genre, players will seemingly have a ton of freedom to roam around the battlefield using their created character, giving it an added action/RPG element. The characters you create will also be able to transfer to the PC version of the game for cross-platform play, though this feature won't make it to the more closed Xbox or PS3 versions. Also included in the description of the video is that Dungeon Defenders: First Wave will be powered by Unreal Engine 3, which explains why this video looks so gorgeous and very near to its console counterparts:
Other tidbits of information that can be found in the upcoming games thread in our forums is that Dungeon Defenders: First Wave will launch around the middle of December for $2.99 with an accompanying lite version. The game will support Game Center for achievements and multiplayer between iOS devices, and will support Retina Display. Like many of the more advanced titles coming out as of late, Dungeon Defenders: First Wave will only be available for 3rd generation devices and above, including the iPad. This definitely looks like one of the more interesting titles to be hitting the App Store this year, and we'll be looking forward to bringing you more information on Dungeon Defenders: First Wave when it releases next month.