Trudging through the forums of TrendyEnt's Dungeon Defenders, an upcoming game on PC that recently caught my eye, has upturned some pretty juicy developments. Apparently, Dungeon Defenders' release in November and a console version on the way hasn't prevented the busy developers at TrendyEnt from finding the time to post their work on an iOS port of the game, too. And it's looking mighty fine, even at this early stage.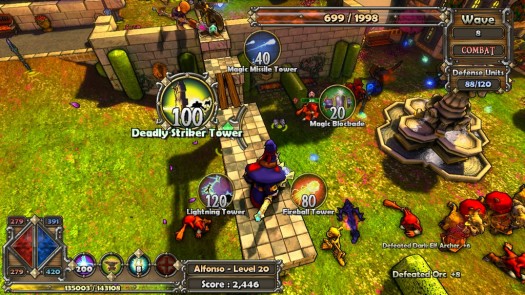 The Dungeon Defenders website describes the game as a hybrid between a Tower Defense game and a Co-op Action RPG, where 4 players take on the role of heroes tasked with defending the onslaught of enemy creep waves by building defenses and directly attacking the horde themselves. There seem to be rich underlying RPG concepts driving Dungeon Defenders, as heroes collect loot, level up, lay traps and even get their own familiars along the way.
It seems as though Dungeon Defenders' iOS release may not be too far away, either. A video released by the developers on YouTube (below) shows Dungeon Defenders already being played co-operatively on 4 different iOS devices. On initial observation, it looks to have many of the features of the PC version, with the touch interface effortlessly replacing the standard point-and-click and the bright, colorful, cartoon-like graphics remarkably in-tact in its translation to the handheld device.
The PC release is described as having an extensive campaign, lots of planned DLC, detailed stat tracking and the ability to seamlessly mix both online and local participants, all features we'd love to see carried over to the iOS port too. Little information is actually known on the project so far, beyond what has been released in alpha demonstrations. We have contacted the developers to see what else we can get from them, and will keep you up to date on any further developments.
Here's their non-iOS trailer: