We don't usually write about iPod Touch add-ons and peripherals (or hold contests, for that matter), but we're fans of Speck's product lineup and wanted to share their latest with you: the Candyshell Grip for the 4th Generation iPod touch.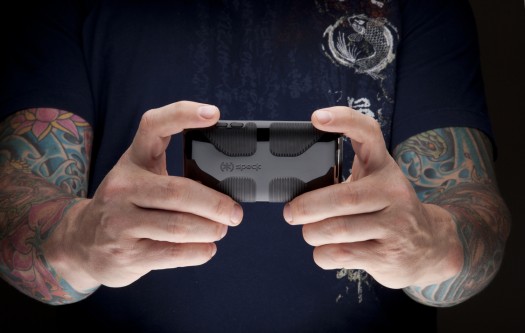 Speck is pitching this case as a gamer-friendly one, as it isn't bulky and is apparently comfortable and rather slip-resistant. You'll notice that ridging on the back has some decent placement for horizontal play and if you look real close, you'll see that each edge of the case has a bit of rubber, too, for the weirdos out there with unnaturally sweaty thumbs and palms. The inside of the case won't scratch up your device either, since it's cushioned with rubber, while the outside of the case is covered in some sort of "sturdy and sleek" concoction designed to protect your iPod touch from the inevitable drop.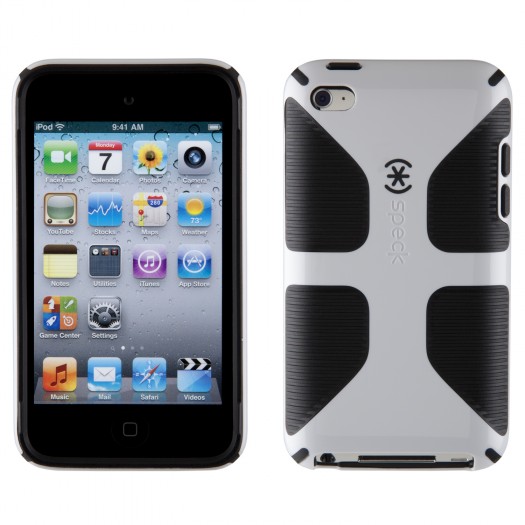 There's a white and a black version of this case, both hilariously named. The white version is called "MoonSicle," while the black version (pictured above) has been dubbed "DarkLord Black." You can grab one of these versions (heavily tattooed man not included) over at the Speck web store now for $34.95.
The dudes over at Speck are also willing to give away a whole mess of CandyShell cases in honor of the CandyShell Grip's release. Winners will have their pick of whatever CandyShell case they want as long as Speck has it in stock, so this isn't just limited to owners of the 4th generation iPod touch. To make things a little more fun than the standard retweet giveaway everyone else seems to like doing, here's the deal: To win a case, post a haiku in the comments that somehow relates to the things we cover on TouchArcade. (iOS devices, gaming, the forums, things like that.) We'll pick 20 of our favorites, and post the winners Monday morning.
Be sure to post your comment using your real email address so we can contact you, as irresistible as it may be for some of you comedy kings to use witty email addresses like [email protected] like most comment threads. If you use aggressive spam filtering, be sure to whitelist *@toucharcade.com so our messages get through. Post as many haiku's as you want, but each person will only be able to win once.