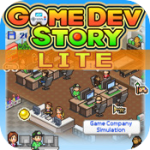 If you were paying attention to the gaming trends of last month, then you probably remember hearing about a little game called Game Dev Story [$3.99/Lite]. We originally reviewed Game Dev Story in mid-October, and were wholly impressed with how much time the game was able to suck away from our lives. From there, buzz for the game spread like wildfire. Sure, all of the heavy hitter gaming websites covered Game Dev Story, but it extended well beyond that to just about every tech or gaming blog across the entire web. I'm pretty sure I even spotted the recipe for the perfect RPG over on FoodNetwork.com. It was a well-deserved phenomenon for one of the finest hidden gems in the App Store.
If every Tom, Dick, and Harry talking about Game Dev Story still hasn't convinced you to pick up the game, then you're in luck, as a lite version has just been launched in the App Store. Just as a quick recap, Game Dev Story lets you run your own virtual video game company. You decide the name of your company, what kind of games to make, and what consoles to support. You'll need to manage a staff of game designers who can level up and learn various skills, as well as managing your entire financial situation so as not to run your company into the ground. The hook in Game Dev Story is coming up with your own ideas, seeing how well your team can execute them, and the surprises of watching whether or not they end up being successful in market. The game should also hold a special place in longtime gamers' hearts in the way it vaguely mimics the actual history of video games, and uses mock versions of just about every famous name or brand possible.
This video from The Game Trail demonstrates the various kinds of gameplay in Game Dev Story nicely:
I honestly cannot recommend Game Dev Story enough. It has some sort of mystical power that urges you to keep on playing it even when there are more pressing matters to attend to, such as eating and sleeping. It may not be the prettiest looking game around, but the retro-style graphics are actually really charming in their own way. And the graphics play second fiddle to the overwhelmingly enjoyable gameplay anyway. I could imagine that some people might be hesitant to spend $3.99 on Game Dev Story based on screenshots or video alone, even despite all the positive fanfare, and that is why I urge every gamer to at least download and try the lite version.
The full version gives you a 20 year campaign to play through, with the option of continuing it infinitely without high score tracking. The lite version lets you play through 2 years of the campaign, which should be sufficient enough to get the general idea of if you will like it or not. If you need further convincing or help with Game Dev Story, check out the lengthy thread in our forums that has exploded with activity since the game's release.