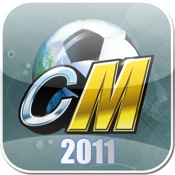 One of the worst things about being an American is that you're unequipped to talk soccer. There's a total of 12 outliers in the US who actually understand the sport, but I'm pretty sure every single one of these freaks play for Team USA. I mention this because I wanted to give you some perspective for this post, which from this point forward, will be all about Championship Manager 2011 [$6.99] and, as a result, my inability to bring up something insightful about the simulation games'… footy-ness? Awesomeness? Something-ness?
Right, so, Championship Manager 2011 for the iPhone (a soccer game) has received what appears to be a solid update that should make the, uh, Champ Man simulation experience that much more fluid and smooth. According to the notes, this update has fixed several crash bugs, as well as the iPad movie issues that have been locking people out of games. It also improves something called "Player Position effect." Now, apparently, playing a soccer player out of soccer position in a game of soccer will "have a greater impact on the team's overall [soccer] performance." Lastly, soccer scorelines have been refined to produce more authentic soccer game results.
Whew. Glad that's over. Eli and I flipped a coin this afternoon. He called both sides, which left it up to me to write this post. We here at TouchArcade treasure our international audience, so we thought you'd like to know, at least, that this game has been updated. Sorry for being stupid Americans, but if you really dig soccer as much as FOX News says you do, well, certainly this post served a purpose!