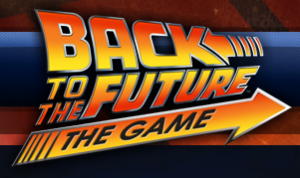 Telltale Games just blasted out a press release on the upcoming Back to the Future: The Game with some surprising news: It will also be coming to the iPad. Release dates are still up in the air, and I already can hardly wait. Telltale has an awesome resume of games available on other platforms, and has released Puzzle Agent [$4.99] for the iPhone as well as Wallace & Gromit: The Last Resort [$4.99], Sam & Max Episode 1: The Penal Zone [$4.99] and Puzzle Agent HD [$6.99] for the iPad.
Not a whole lot is known about Back to the Future: The Game aside from a few videos posted on the Telltale site. It's going to be a point and click adventure game written with the assistance of Bob Gale, the screenwriter of the original three movies. Christopher Lloyd is voicing Doc Brown, and the game is said to take place six months after the events of Back to the Future Part 3.
I wish we had more details, but in the meantime, check out the Gaker's list of 13 Things from Back to the Future II That Actually Came True, and 5 That Haven't… Yet if you're looking for a laugh.