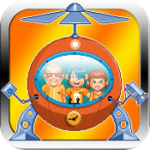 Hidden object games aren't hard to find on the App Store. They range from the classics like Where's Waldo [$2.99 / HD] to games with crazily specific themes like Dream Day Wedding: Married in Manhattan [99¢] to games that straddle genre lines such as Gourmania [99¢ / Lite / HD] that mix in time management or other gameplay mechanics. Time Geeks: Find All! [99¢] offers the same basic gameplay, wrapped around some absolutely fantastic pixel art that is dripping with pop culture references. (In fact, finding these pop culture references while you're playing makes the game even more fun.)
The core of the game is history mode, in which the time geeks in their strange time traveling helicopter visit 8 different locations on a mission for various objects. Playing the game in this mode involves the game showing you what you're looking for, at which point you have a set amount of time to find it in the cluttered game world. How quickly you find it determines how many stars you're awarded, and the location of each object is totally randomized, adding quite a bit of replay value usually not found in these kinds of games. Also, playing through history mode unlocks an array of simple but fun mini games and a few new game modes. You can even create your own island to find things on.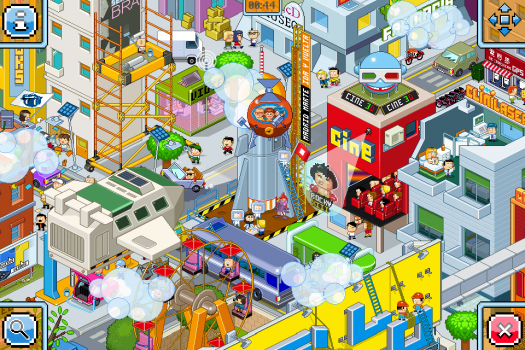 Something that sets Time Geeks apart from other hidden object games is the frantic pace the game sets for itself. In addition to the countdown timer constantly ticking, the screen is often cluttered with clouds, spaceships, and the time traveling helicopter that the geeks themselves are riding in. In order to get a clear view of the ground, you'll need to be constantly panning around and changing zoom levels, forcing you to play the game much differently than most of these types of games where you can take your time and just slowly scan the scenery.
If you've ever enjoyed a Where's Waldo book (or the game), or really any other hidden object game on the App Store, Time Geeks: Find All! is a game you need on your device. (And our forum members agree.) The pixel art is great, the graphics look amazing on the Retina Display, and the randomization of the target items in games means you can play through it again and again.