Last month we previewed some screenshots from the upcoming real-time tactical strategy RPG Battleheart from developer Mika Mobile, of Zombieville USA [$1.99/Lite/HD] and OMG Pirates! [$1.99/Lite] fame. Battleheart is unique in that it uses an interesting line-drawing mechanic to control players during the real-time combat. You'll tap a character from your party to select them and then drag a line out to a location that you want them to move to, or drag to an enemy that you want that particular character to attack. With multiple enemies attacking at once, you can send off a character to attack one of them and while they are battling select another member of your party to take on one of the other enemies.
It sounds like an easy enough mechanic to use, and should provide for some frantic battling during the game. This first gameplay video of Battleheart does a great job at demonstrating the battles in action:
There are some other details about Battleheart that Mika Mobile has divulged in the upcoming games thread in our forums. You'll choose a party of 4 characters from a selection of 8 different classes. Each class will have a selection of abilities that you assign your character based on damage, survivability, control, or a mixture of abilities. In addition, there will be passive traits for your characters in what Mika describes as a simplified "talent" system. Each class will have about a dozen powers of traits of which you'll be able to select roughly half for each character.
Another interesting part about the party system is that while your party will consist of 4 active characters at a time, you will have the ability to keep additional characters in reserve as well as encounter new party characters throughout your journey that can be swapped in and out of your party. Only the active party members will gain experience and level up though, so it's mostly in your benefit to keep the same core group active in your party, but the option to mix things up will be there too. Enemies will include various melee, ranged, and support type enemies to battle, and bosses are something that is currently being worked on as well. The enemies will also encompass a simple priority system in how they attack you, so your most powerful and heavily armored party members will generally be the first ones they focus on.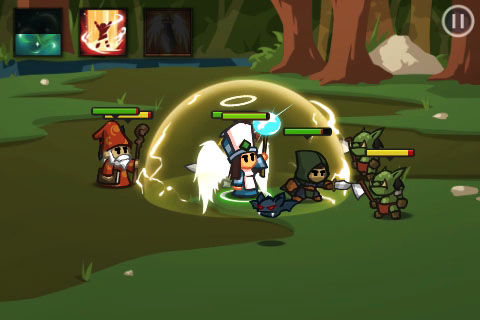 Battleheart is currently about 99% finished, with all of the major functionality of the game already complete. Now Mika Mobile is just focusing on adding content like additional enemies and spells and polishing any rough edges in the game. They are shooting for a December release, though will only release the game once they feel like it's 100% complete and ready to go. Also of note, the game will feature universal iPad support and graphics made for the Retina Display. We're definitely looking forward to the game, as are many players in our forums, and we'll bring you any new info on Battlehearts as the game pushes towards its tentative December release.