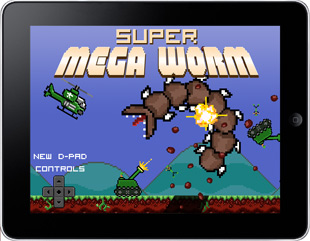 DeceasedPixel just released an update to their people-chomping action game Super Mega Worm [App Store] that makes the title a universal application, adding native support for the iPad. It's an update I was pleased to note, as I've lately been somewhat addicted to the iPhone version, and this update make all those blocky pixels that much bigger and sharper.
Super Mega Worm opens with an 8-bit retro cutscene explaining how humans have consumed the earth, and how mother nature now has a bone to pick with us. She tasks her favorite pest exterminator, Wojira the Death Worm, with wiping humans from the earth and restoring balance to the force…you get the idea. It's a nice little setup for the mayhem that is the hallmark of the giant worm game, and an introduction to the glorious mario-like pixel art.
Wojira the subterranean worm is controlled by a slider, a tilting mechanic, or a D-pad control, the last being a new feature brought with this update. Additional buttons appear on your screen as you unlock your spitting attack, EMPs, fireballs, slam attacks and other abilities as you work your way through the worm's 24 levels. Another new feature is Game Center support, a most welcome addition.
Super Mega Worm, based on Death Worm, is a an exercise in basic gameplay that's a whole lot of fun. The golden moment in the game for me is when you see two people walking innocently across the countryside and you erupt from the ground to devour one of the pair, filling the remaining human with panic and dread. (That's got to be a surprise.)
Super Mega Worm is currently on sale for 66% off, at $0.99.