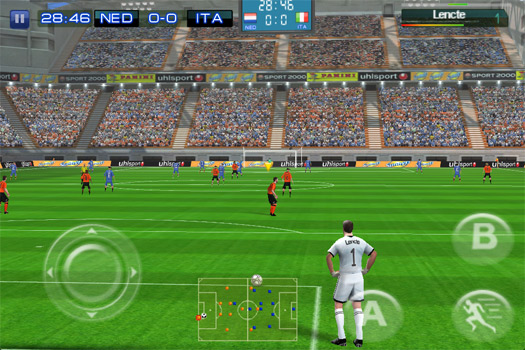 Happily for the sports fans out there, there's no lack of full-featured football / soccer titles in the App Store. And, that list grew by one this morning when Gameloft released Real Soccer 2011 [App Store], the latest iteration in their mobile soccer series, featuring revamped graphics targeting the iPhone 4's Retina display.
The game features 350 teams across 14 leagues (compared to 245 teams and 8 leagues in RS 2010), with the licensed names of nearly all real-life players. A History Mode sets up notable games of the past for the player to jump in and play and, like Real Soccer 2010 before it, the game features WiFi and Bluetooth multiplayer play modes, as well. The ability to upload memorable replays directly to YouTube from within the app has also been maintained in this release.
While I've only spent a very brief time with the game as yet, the detail afforded the playfield by the iPhone 4's high resolution display is impressive. While Real Soccer 2010 received Retina display support in a recent update, this latest from Gameloft features reworked graphics created using motion capture technology for enhanced realism, the studio indicates.