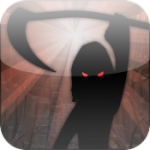 It was only a couple of weeks ago that we reviewed Solomon's Boneyard from Raptisoft, the prequel to the excellent dual-stick dungeon crawler Solomon's Keep [99¢/Lite]. In the game you'll play as one of an assortment of different wizards and witches who are trying to prevent a young Solomon Dark from desecrating the local graveyard. You'll fight against endless waves of increasingly difficult undead enemies within the confines of the cemetery. Your character will earn experience and level up allowing for upgrading of your magical abilities, and a persistent monetary system lets you collect coins for use in an upgrade shop in-between play sessions.
We really liked Solomon's Boneyard when it came out earlier this month and found it well worth the one dollar price tag, but surprisingly the game has already dropped to free for a day. The following video gives you a good idea of what the gameplay is like in Solomon's Boneyard:
If you had been on the fence about buying Solomon's Boneyard before, there's no excuse not to give it a try during this temporary price drop. If you like the gameplay, then we can definitely recommend checking out Solomon's Keep as well, which has similar elements but a structured level progression and meatier story to go along with it. Be sure to check our full reviews for Solomon's Boneyard and Solomon's Keep, as well as our take on the Solomon's Keep 2.0 update. For the grand total of 99¢ you can grab two of the better dual-stick shooter experiences on the App Store. More information and impressions can be found in the Solomon's Boneyard thread in our forums.