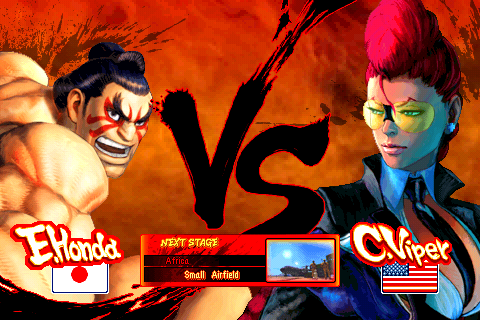 About a month ago, we detailed the announcement from Capcom that the female character Crimson Viper would be added to the roster of Street Fighter IV for iPhone. And as we speculated then, she won't be alone. Today they have announced that original Street Fighter II combatant E. Honda will be joining her in the forthcoming update, following the previous update that added Cammy and Zangief as playable characters. Personally this announcement has me really excited, as E. Honda marks the completion of the original cast of characters from the arcade game, and he is also one of my favorites to play with. Capcom has released some new screenshots and video of E. Honda in action (click to enlarge):
And here is some gameplay video of E. Honda on the iPhone:
As with the last update, this one will be free to previous owners of the game. Besides the addition of Crimson Viper and E. Honda, Capcom has hinted that some other surprises will be in store for fans of Street Fighter IV. The previous update hit the App Store a few weeks after the announcement of the second character, so hopefully this news of E. Honda means that we'll be seeing these new characters in the game within the next month. Be sure to check out our preview of Crimson Viper for additional screens and video of her in action as well.