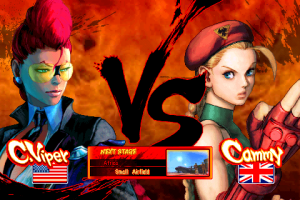 For fans of the excellent iPhone port of Street Fighter IV, you'll be happy to know that a new character is making her way to the roster. Capcom has just announced that Crimson Viper, who first made her debut as one of the four brand new characters in the Street Fighter IV franchise rebirth on arcade machines and home consoles, will be the latest addition to the iPhone conversion via a free update. This follows the previous update from Capcom that added Cammy and Zangief as playable characters, which we covered back in June, bringing the roster total to ten combatants.
Here are a couple of shots of C. Viper showing off her special moves (click to enlarge):
If you've been following along since the release of Street Fighter IV for iPhone, then you will remember that Capcom announced the addition of Cammy back in April, and didn't announce Zangief until over a month later. This leads me to believe that another character will be announced in the near future for this forthcoming update. This has not been confirmed in any way and is purely speculation on my part, but as a rabid Street Fighter fan I can only hope. Plus, it just seems to make sense to add two characters at a time, brining the total to a nice even twelve.
In the meantime, enjoy some video of C. Viper in action on the iPhone:
If you have yet to check out Street Fighter IV on the iPhone, take a look at our full review from March. No firm release date has been set for this new update other than "soon", but we'll keep you posted if Capcom happens to narrow it down (or announce any additional characters).