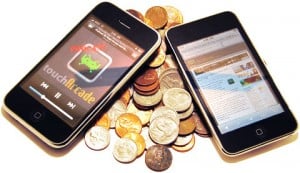 After the multitude of sales that went down over the Labor Day weekend in the US, there are still some pretty great deals to be had entering into this shortened work week. As with all the sales that occur on the App Store, prices are subject to change at any time, so make sure and take advantage of them while you can.
---

Stair Dismount®, Free From the originators of ragdoll physics pain infliction Secret Exit, Stair Dismount Universal has gone free for a day. Give poor Mr. Dismount a hearty push down one of 12 different sets of stairs, inflicting pain and earning high scores to compete on the OpenFeint leaderboards.
The game was recently updated with universal iPad support and a DLC character pack. If you haven't picked it up already, definitely give Stair Dismount Universal a download while free, and if you like it you can throw a buck at the DLC for 3 additional characters.
---
[appblurb options=""url="http://itunes.apple.com/us/app/pinball-ride-unlimited/id329198184?mt=8" blurb=`
Pinball Ride
is a game that
we took a look at back in April
and determined it to be a fun pinball experience, but it felt slightly high priced at $5 compared to the other options available on the App Store. A couple of weeks ago,
Pinball Ride
received a huge update that added universal iPad support as well as some heavily tweaked gameplay. Story Mode has been fleshed out with new goals and achievements, and Burst Mode has been completely redesigned to offer more substantial gameplay.`]
Pinball Ride is a great looking game, rendered entirely in 3D and runs incredibly fast and smooth. If you've felt like the $5 price tag was too steep before, you can currently get the game at the discounted rate of $2.99 and there is a lite version to check out as well.
---
[appblurb options=""url="http://itunes.apple.com/us/app/linkin-park-8-bit-rebellion/id362709717?mt=8" blurb=`While light on gameplay but heavy on fan service,
8-Bit Rebellion
is an arcade style beat 'em up with an emphasis on social interaction featuring the popular band Linkin Park. It's a simplistic button masher at its core, but features a ton of cool items to collect and real-time interaction with other players online. I'm not really a fan of Linkin Park, but was surprised by how much there was to like when
we reviewed the game in April
.`]
One of my favorite parts about 8-Bit Rebellion are the excellent 8-bit renditions of some of the band's most popular songs, which should really appeal to fans of Linkin Park. In addition to the iPhone version sale, the iPad version has also dropped to 99¢ and there is a lite version if you want to take the game for a test drive first.