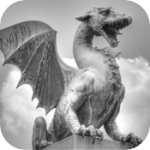 We've posted a few times about the Fighting Fantasy, Gamebook Adventures, and Sorcery! series of interactive fiction and have gotten a surprisingly positive response every time. Those books are like the Choose Your Own Adventure novels you may remember reading as a child, with an element of randomization thrown in by needing to complete various dice challenges throughout the books to determine which way the story forks. Choice of Games abandons this dice-based gameplay model for a much more traditional (and in depth) multiple choice system for each decision that I actually enjoyed quite a bit.
Under the hood of all these games is something Choice of Games calls "ChoiceScript". ChoiceScript allows for works that are much more complicated than your typical two decision fork that leads off to two different pages as it supports things like variables in the story. These variables not only allow you to sometimes name characters yourself, but are often used as character statistics, with some decisions leading to gaining a particular stat which could potentially open up areas later in the book.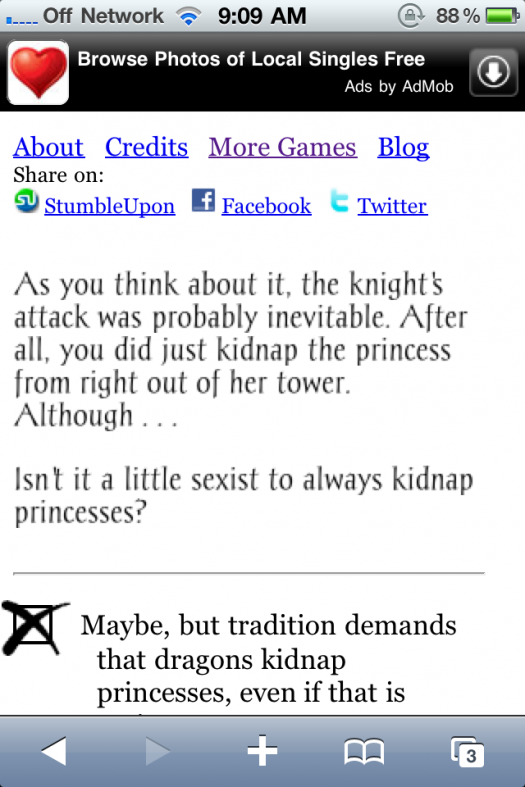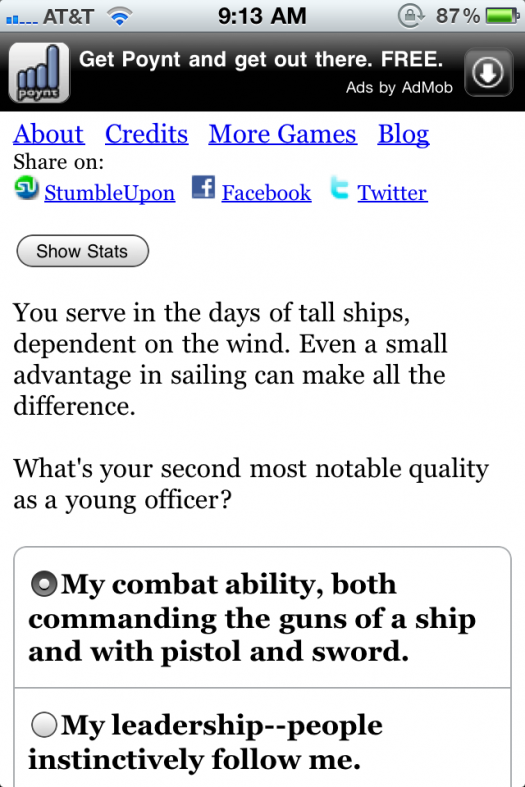 Choice of the Dragon in Mobile Safari on the left, Choice of Broadsides app on the right.
The coolest part about all this is that Choice of Games has a guide on how to use ChoiceScript, and it's actually quite simple. If you've got the time to invest in to building a piece of interactive fiction in ChoiceScript, they'll even host it for you on their online game portal and App Store listing, sharing 75% of the profits.
The presentation of these games is very bare bones, and are little more than black text on a white background with UI elements that just consist of basic form components. They play the same both in the browser on ChoiceOfGames.com as they do in app form, so if you've got constant internet connectivity you can just make a home screen bookmark for the game you're playing. If you've got an iPod touch or a non-3G iPad, the apps are totally worth downloading if you find yourself getting in to them.
Just like the other interactive fiction we've posted about, these works are completely independent of each other and reading one isn't required to enjoy the rest:
Choice of the Vampire, $5.99 Begin your two-hundred year journey as a vampire in New Orleans, 1814; choose whether you will seek love, power or redemption as you negotiate the growing-pains of the young Republic.
Affairs of the Court (Legacy), $5.99 Play as a young courtier who catches the monarch's eye. Will you find true love? Gain a crown? Lose your head? A text-based multiple-choice game of romance, deception and court intrigue.
Choice of Broadsides, Free Multiple-choice swashbuckling naval adventure, in the spirit of C. S. Forester's Hornblower or Patrick O'Brian's Aubrey/Maturin books, with a dash of Jane Austen.
Choice of the Dragon, Free Play as a fire-breathing dragon who sleeps on gold and kidnaps princesses for fun. Dominate the local kingdom, loot and pillage, and inspire terror in the hearts of your enemies!
Paranoia, Free By Kie Brooks. When you think your doctor may be trying to kill you, life gets complicated. Survive this multiple-choice game if you can.
What Happened Last Night?, Free By Kie Brooks. "What Happened Last Night?" is a dark but occasionally humorous action murder mystery multiple-choice text-based game.
The Nightmare Maze, Free By Alex Livingston. "The Nightmare Maze" is the story of a 19th-century Bostonian plagued by strange nightmares. Lose yourself in the depths of a tormented psyche and try to find the logic to the night terrors in this haunting text-based multiple-choice game.
Popcorn, Soda ... Murder?, Free By Pauzle. "Popcorn, Soda … Murder?" is a thrilling text-based multiple-choice murder mystery. Can you find all the clues at the murder scene and piece together who must have done it and how?