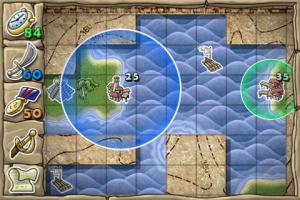 We recently posted screenshots and details of the upcoming turn-based strategy puzzler Stoneship in an exclusive granted us by Cyan Worlds. Today, the studio pointed us to a brief video they have posted that provides a look at the game in action.
The upcoming Stoneship: The Curse of a Thousand Islands represents "a lighthearted new direction" for Cyan Worlds, the studio indicates. The game is a casual, top-down, turn-based, strategy puzzle game "with a bent toward the whimsical," we're told. Stoneship sets you and your first mate on the high seas, charged with exploring, controlling, and protecting vast oceans and islands, under continual threat of a pirate siege. There are eighty three included levels to play through, with additional levels to come later via update.
Cyan tells us that the game is nearly complete, but that they are considering slightly delaying its release in order to integrate Apple's GameCenter functionality, what with the iPhone-maker's recent announcement that we will see its arrival in the upcoming iOS 4.1. If GameCenter integration does not make it into the initial release of Stoneship, it will join a planned update that includes additional maps and other gameplay features.
Stay tuned for a close look at Stoneship: The Curse of a Thousand Islands we'll be posting as soon as we have the game in hand.