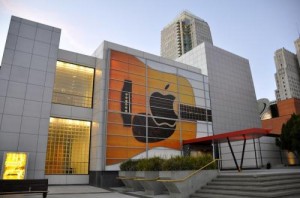 We are mere hours away from Apple's latest media event held at the Yerba Buena Center for the Arts in San Francisco, CA. Few people know for certain what will be discussed today, but the rumor mill is on fire with what could be a potentially redesigned iPod Nano or iPod Shuffle as well as the somewhat inevitable iPod touch refresh. Photos of leaked front panels of what could be the new iPod touch have been floating around the Internet for quite some time now, and it appears that this year could potentially be the year that the iPod touch finally gets a camera– Maybe even a front facing camera to place FaceTime calls. Other rumors have been circulating including potential enhancements to the Apple TV and even revamping the pricing structure for some content on iTunes such as 99¢ rentals for episodes of TV shows.
Yesterday they announced that they will be streaming this event live:
Apple will broadcast its September 1 event online using Apple's industry-leading HTTP Live Streaming, which is based on open standards. Viewing requires either a Mac running Safari on Mac OS X version 10.6 Snow Leopard, an iPhone or iPod touch running iOS 3.0 or higher, or an iPad. The live broadcast will begin at 10:00 a.m. PDT on September 1, 2010 at www.apple.com.
If you don't have a Mac, iPhone, or iPod touch to watch the event on, there is a guide on MacRumors to watch the stream using VLC on a PC. Of course like all Apple keynotes we will be providing live coverage of things from the keynote that pertain to gaming, and we will be on site after the event to hopefully get some hands-on time with whatever new products are available.