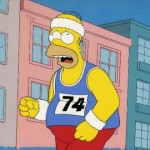 While neither Run! [99¢] nor Canabalt [$2.99] truly invented the "run right forever" genre, they did quite a bit to popularize it on the App Store. In the last year tons of these types of games have been released, with recent entries including A Skeleton Story [99¢] and Monster Dash [99¢] among others. Two more came out this week which are worth considering if you can't get enough of running for your life on your iPhone.
Cave Run, $1.99 – As the title would hint, in Cave Run you run, in a cave. Along the way you tap the screen to jump over pits and avoid a few different obstacles such as little patches of lava that send you flying up in the air, puddles of water that speed you up, and rocks to trip on to slow you down.
As you notice from the gameplay video, there are coins littered all over this cave. Unfortunately, right now the coins don't serve any purpose other than being computed in to your final score to bump up your ranking in the OpenFeint online leaderboards. I'd love to see some kind of in-game store where you can use these coins to buy things, even if those things are only cosmetic upgrades as right now the coin system seems like an odd afterthought. Also, Cave Run is a universal app, and it's always nice to be able to play games on any device.
---
Dead Runner, 99¢
– An interesting take on run forever games which changes things from running right to running straight ahead in a first person perspective. Set in a spooky forest, you tilt your device right or left to avoid trees, running faster and faster, hitting bushes when you need to in order to slow down. The game is simple, but works really well. It also doesn't take long before you're going ridiculously fast, a huge plus in any game like this.
Dead Runner also has a second game mode aside from just running for distance where you go for points. By collecting various colored orbs while running through the game world, you can work up huge multipliers which both increase your speed and award extra points. With OpenFeint leaderboards for both game modes and achievements, Dead Runner is really worth checking out.