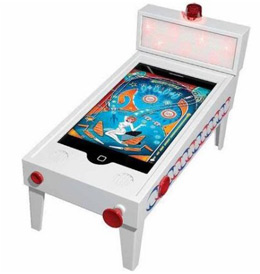 New Potato, who brought us the Jackpot Slots [App Store] game / accessory for the iPhone, has just released another such bundle for the iPhone and iPod touch — but this time around, the game in question is pinball.
Pinball Magic is a gaming accessory that is intended to transform your iPhone or iPod touch into a realistic pinball machine, albeit a rather diminutive one. The pinball table-shaped accessory sports flipper buttons, a ball-launching plunger, a credit / select button,an animated LED backbox display, and foldable legs for easy transport. The device mates with your device's 30-pin dock connector and delivers a pinball experience by way of New Potato's free Pinball Magic [link] app.
Game features, listed by the developer:
Multiple classic and unique playboard layout
Advanced multi-level and multiplayer competition
Four possible multi-ball modes
End-of-ball and replay bonuses
Tilt detection, tilt warning and activation
Ball saver
Pinball Magic is currently available from Best Buy, online and at certain retail locations at a price of $39.99. And don't bother downloading the game app if you don't have the accessory — it won't play at all.
[ via ChipChick ]