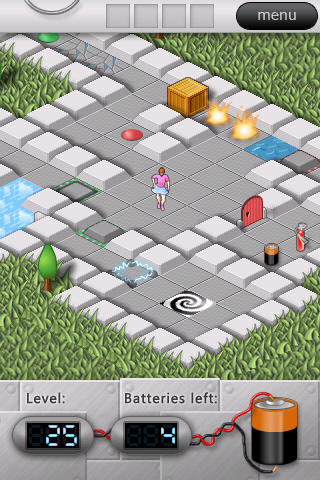 Bas Tossings' Loopy Laboratory has gone free for the day. The game was originally released in October 2008 — nearly 2 years ago. I really enjoyed the game at the time:
One iTunes reviewer has described this as a remake of Chip's Challenge/Tile World which it does seem to resemble though the developer says he was inspired by a number of older puzzle games which came together for this project.

The game is set in the laboratory of the evil Dr. Heissenbad. You play the character of Lara. Your job is to escape the laboratory by collecting batteries to turn off electrical fences — at least that's what the developer description said. But there's actually a lot of variety in the level obstacles and battery collection is only one small component. There are 50 levels of play in all with a gradually increasing difficulty.
Loopy Laboratory is a level-based puzzle game where you need to collect all the batteries on each level. The same 1.0 version still runs well on the iPhone 4 and iOS 4.0.

The game has a certain charm that I really enjoyed at the time. My main criticism was that it stayed too easy for too long, and unfortunately the developer never followed up with additional levels. I do recommend picking it up while you can.