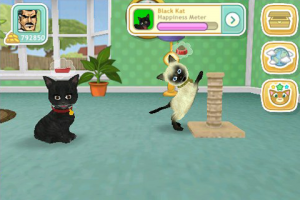 Back in June at Apple's WWDC, we visited ngmoco's San Francisco studios and spent some time with the gamemaker's upcoming TouchPets: Cats, a virtual pet title that follows the studio's earlier TouchPets: Dogs.
Not simply a reissue TouchPets: Dogs — but with cats — the upcoming title takes a different approach to the virtual pet experience in a number of areas. Perhaps most notably, the feed-to-play mechanic of the earlier title is gone, so you need not feed your pet every time you want a few minutes of playtime. In its place is catnip, which can be used to jack your cat up in order to get it to perform certain actions, like collecting coins from the sofa cushions, in order to further the game. You can read more about what we found in our time with the game in our hands-on article.
Ngmoco has recently released a new gameplay video that should give readers a clear look at the play mechanics found in TouchPets: Cats.
TouchPets: Cats is expected to arrive in the App Store later this year.