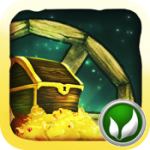 Late last year Two Lives Left's Wheeler's Treasure [$4.99] rolled on to the App Store, and following a positive preview we took a closer look at the game and even discussed it on our podcast. In a nutshell, Wheeler's Treasure is a randomly generated survival platformer where you jump down a hill inside, on top of, or nearby a mysterious wheel. It's an odd game premise, but works surprisingly well especially with the whole slew of items that can be collected in game such as a grappling hook to latch on to the wheel or a magnet to suck up nearby coins among others. These items add a surprising amount of replay value to the game, as they're collected from chests which randomly appear in the game world at various intervals down the hill, requiring many play throughs since I doubt anyone is capable of collecting everything in one run.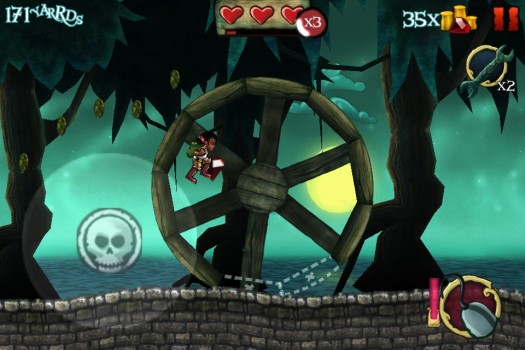 Since we last looked at the game, it has had its controls revamped with a virtual joystick of sorts to control your jumping as seen in the above screenshot, and Wheeler's Treasure now comes with complete Retina Display support if you're playing on an iPhone 4. While 3D games like Real Racing [$4.99 / Free] look great on the Retina Display, I think hand drawn games like Wheeler's Treasure really look the best at high pixel densities.
If you've since forgotten about Wheeler's Treasure since its release nearly a year ago, this latest update is really worth reinstalling on your device, especially if you own an iPhone 4. Otherwise, if you're looking for a very unique pirate themed survival platformer, look no further than Wheeler's Treasure. For more information on the game, check out our review or stop by the thread in our forums.