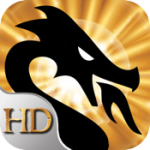 One of our favorite turn-based strategy games, Highborn, has just received a new update and has gone free for today only. Released in early June of this year, Highborn has a wonderful art style, clever writing, single player campaign, and an asynchronous multiplayer mode. Using the typical top-down grid view of most strategic games like this, once you engage in battle with an enemy the game switches to a 3D animation of the ensuing fight between your troops and the enemy. It's a really neat effect, and the overall presentation of Highborn really impresses. As you can see from this excerpt, we really loved the game in our full review:
Highborn comfortably sits as one of the best turn-based strategy games we have played on the iPhone. Beyond its dialogue and characters, which raise the bar entirely for humour, creativity and personality (and ability to plough right through that fourth wall); Highborn looks and plays fantastically, with a depth and attention to detail in its presentation that constantly surprises (just take a look at the character descriptions to see what I mean). If you look past the Facebook integration (which we understand some of you won't, though we strongly urge you to), Highborn also has a lasting and engrossing multiplayer mode that is excellently paced and perfect for portable devices. With additional campaigns promised beyond the 8 lengthy missions currently available (they'll take you hours to complete), Highborn is a robust and content-heavy turn-based strategy game that will surely leave you impressed.
What you can also see from that snippet is that while we loved the way the multiplayer mode worked, we absolutely hated that it forced you to use Facebook to take part in it. I'm sure many other players felt the same, and likely shied away from the multiplayer aspect because of this. Developer Jet Set Games recognized this, and in an update released a couple days ago Facebook was taken out in favor of the OpenFeint social network. While not everyone is a fan of OpenFeint either, it at least affords a way to enjoy the multiplayer in the game without having to add strangers to your own personal Facebook friend list, and doesn't even require an email or any personal info to sign up for. There's even the inclusion of player chat thanks to OpenFeint, not to mention the 30 million strong user base.
Besides Highborn for iPhone being free today, there's also an iPad version that has just been released. The iPad version adds the usual benefits of sharper graphics and a larger play area due to the bigger screen, but essentially the two versions are identical. This isn't necessarily a bad thing though, as the iPhone version is of such high quality and the introductory price for the iPad version is only $2.99. And while Highborn has a fairly decent single player campaign already, what I'm really waiting for is the addition of the second chapter that is hinted at in the game. Still, for one of the best strategy games available on the App Store there's no reason not to at least grab the iPhone version of Highborn while it's free for today only.