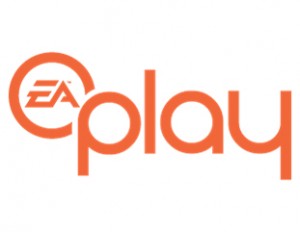 Last week at EA's "Hot For The Holidays" event in New York City I was able to sit down and get a considerable amount of playtime in with the predictable yearly sequel of Madden NFL 11 which EA plans on releasing for both the iPhone and iPad with the launch of the console game on August 10th. One of the first things EA showed me in the demonstration was a side by side with Madden NFL 10 [$6.99] and the difference was remarkable. Immediately you notice higher resolution textures everywhere and stadium crowds that actually look like people instead of just a solid multi-color texture, something that was extremely noticeable that you can see in the screenshots of our Madden NFL 10 review.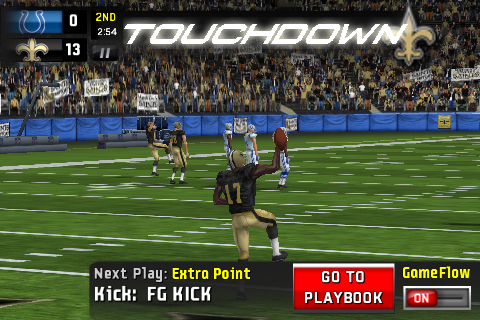 The player models have also gotten a makeover as well, and appear to have a much higher polygon count as the stick figure models of last year's game are nowhere to be found. The animations seem improved, and the shadows below the players actually represent what they're doing instead of the small dark circles of Madden NFL 10. Weather effects are greatly enhanced too. It was really amazing seeing both 10 and 11 running next to each other, as the difference almost looks like a jump in console generations.
There are a heap of new features in Madden NFL 11, but what interested me the most was the new GameFlow system. With this enabled, instead of needing to wade through endless menus selecting plays that (in my case anyway) you're not even sure are appropriate for that particular point in the game, GameFlow will choose the best play for you. According to EA this takes in to account numerous different factors such as field position, score, and many other factors to make sure you're always using a play that makes sense.
This not only works great on a mobile device where quick play sessions are generally preferred, but also for casual sports players like me who enjoy football games but always just randomly choose whatever play has the most interesting looking lines squiggling about. Speaking of squiggling lines, the Hot Routes system from Madden NFL 10 has been totally reworked and similar functionality has been brought to the defensive portion of the game.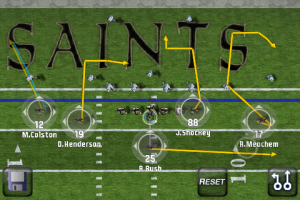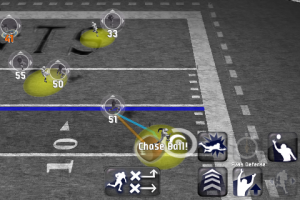 At any time when playing Madden NFL 11 you can pause the action and draw where each of your players should be going with your finger. You can completely customize offensive plays like this, and even save these custom plays to be later recalled using audibles. On the defensive side of things, instead of just randomly tabbing through players and running them towards whoever has the ball on the other team, you can similarly pause the action and customize the routes of each of your players.
The goal behind this was to make playing defense more fun, and it seems like EA succeeded. More often than not in football games it seems like playing defense was always just a clunky necessary evil while you waited to get possession of the ball again. Now that you can actually have precise control over your team, playing defense is actually quite enjoyable as you can easily use your own strategies instead of just controlling one player while the AI handles the rest of your team.
Aside from all the standard game modes we've come to expect from a Madden game, Madden NFL 11 will also include "vintage voltage football," which sounds identical to Chillingo's Super Shock Football [99¢ / Free / HD]. EA even went out and bought an electric football game to make sure the experience was similar to the original tabletop game. It sounds like a lot of effort is going in to this extra game mode, as they've even had custom announcer clips recorded to fit the action that takes place in an electric football game.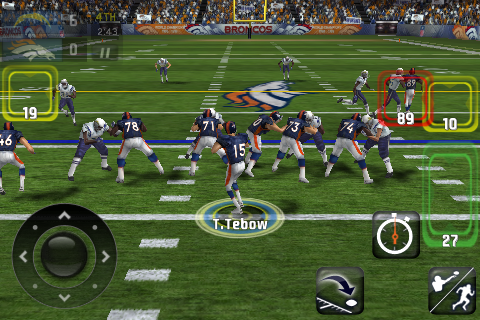 Like most Madden games, Madden NFL 11 is a substantial improvement over last year's game. The new features they're adding in should enhance the gameplay significantly on the iPhone, and I'm especially looking forward to the game automatically choosing the best play for me. Stay tuned for August 10th, as we'll have an in-depth look at the game as soon as it hits the App Store.