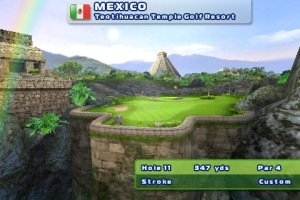 Back at E3 I stepped aboard the Gameloft party bus and was given a peek at their upcoming lineup. One of those games was Let's Golf 2 [$4.99], the sequel to one of my favorite golf games on the App Store, Let's Golf [$1.99 / Free / HD]. Looking back at the review of the original, I loved that Let's Golf was the closest thing to Hot Shots Golf on the App Store, one of the only reasons I kept my PSP.
Let's Golf 2 takes the same basic gameplay and enhances it with more holes (108 this time), along with more playable characters, unlockables, and better graphics across the six different environments. There's even online multiplayer, although as this point too few people are playing for me to get a game going. There is a career mode to play through, and each of the golfers even have their own super power they can use in a pinch such as a more powerful drive or more precise puts.
If you enjoyed the first Let's Golf, or gold games with an arcade feel in general, you should really give the Let's Golf series a spin. If the online multiplayer in Let's Golf 2 works as well as I hope it does, Gameloft is going to have a real hole in one on their hands here.