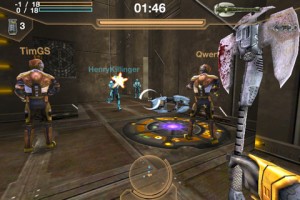 The much anticipated first persona shooter Archetype has finally launched in the U.S. We first spotted the game having beta launched in the Czech App Store a few weeks ago as it prepared for its international launch. Archetype is an online 5-on-5 team deathmatch game that works over Wi-Fi, 3G and EDGE.
Anyone who has ever complained about the "freemium" model of Eliminate now has a chance to put-up or shut-up. The developer says in their game description "No gimmicks, no tricks: iPWNAGE IS JUST $2.99."
We've given the game a quick spin for a couple of games over Wi-Fi. The game runs very well on the two devices we were able to test initially: the iPhone 4 and a 2nd Generation iPod Touch. Controls are very smooth and as you have come to expect from an iPhone FPS: left to move, right to aim/shoot. The game comes with 5 different maps with 6 weapons (Battle and Precision Rifles, rapid-fire AutoMag, shotgun, missile launcher, and brutal melee axe) as well as 2 different types of grenades.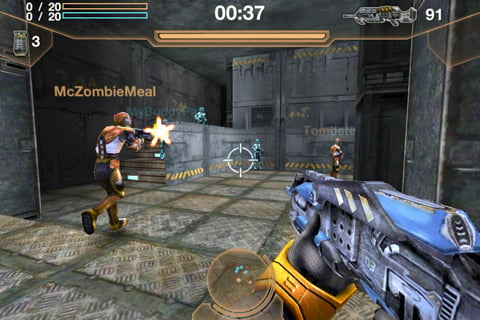 Controller options include invert aim axes, auto-fire on/off, aim sensitivity, vibration on/off, display joysticks on/off, and display radar on/off. The game natively supports the iPhone 4's retina display.
The game comes with 3 different modes: Team Deathmatch, Challenge, and Training. The bulk of the game seems to be focused around the online Team Deathmatch. The developers have 5 different regions covered with servers: U.S. East, U.S. West, Europe, Asia, and S. America. You can easily toggle between them though presumably it originally places you with the group you are closest too.

Since it has just launched within the hour, the number of players available hasn't picked up yet. I've been involved in a few matches with 2 on 2, so I haven't seen the full 5 on 5 action quite yet. Early impressions have been very positive, but we'll post a full review after we are able to spend some time with it. The whole package seems very professionally put together. As with any online multiplayer game, however, the trick is going to be able to build up a sustainable player pool and to see how the servers can hold up.
More impressions are trickling into our forums.